Recently, Cima NanoTech, a manufacturer of Nanomaterial-based products for use in electronics applications and NoviSign, digital signage software company, decided to cooperate.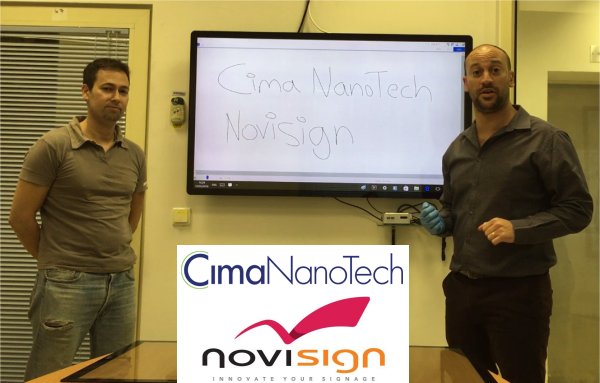 Cima NanoTech brings a new fresh announcement to the digital signage realm: touch modules to be attached to any 32″ simple TV screen and above, turning it into a touch TV screen, in an affordable price (!). Buying a touch screen is expensive, so unless you're a rich as Rockefeller, you better consider this cool option: use your existing TV screen and attach a touch module to it to add it touch abilities. You can also buy a TV with the touch module already connected. You know what? Even if you're rich, consider this option for better ROI.
So, how does it work?
The touch module is a kind of glass which is being glued to the TV screen in the edges. It has a USB cable which should be attached to your Android TV box (should be KitKat or above), Windows TV box (should have Windows 7 or above) or Chrome OS device (i.e. Chromebox or Chromebit). Together, you get a touch screen of 32 points or even more (some apps such as Windows Paint can use not more than 10 touch points simultaneously).
NoviSign has apps for 4 platforms: Android, Windows, Chrome OS and Adobe Air. Most of them have some basic touch abilities (paging, navigating inside a web page widget, touch popup web form), which look nicer once you use a touch screen, rather than a mouse cursor. Just imagine…
Here is a video to demonstrate you some of the abilities:

Nir.