I'm not sure if most of you did the almost mandatory course at almost any faculty – Micro and Macro economics. I must admit I don't remember most of it, but I do remember the logical economical explanation why eventually, maybe after few iterations, the shoe stores will be located in the "Shoe and fashion store area", and the bars will be located at the "Bars and restaurants area" and it would be rare to find a bar near the shoe store. All of them, by the way, must need digital signage, but this is a different blog post 🙂
Why on earth I have sudden memories from this basic economics class back at the early nineteens (yes, I'm not young anymore)? And how is this related to the digital signage software business I'm in?
The answer is simple: every software needs hardware. Digital signage software needs, well… digital signage hardware, and where can one find it? Most likely in Shenzhen!
Actually, when me and my team at NoviSign started to prepare our presence at Infocomm, one glance at the map showed us that the most common name in the map is Shenzhen. It is not only that most of the digital signage hardware manufacturers are located at Shenzhen, it is actually that most of the companies' names start with (or include) the word "Shenzhen".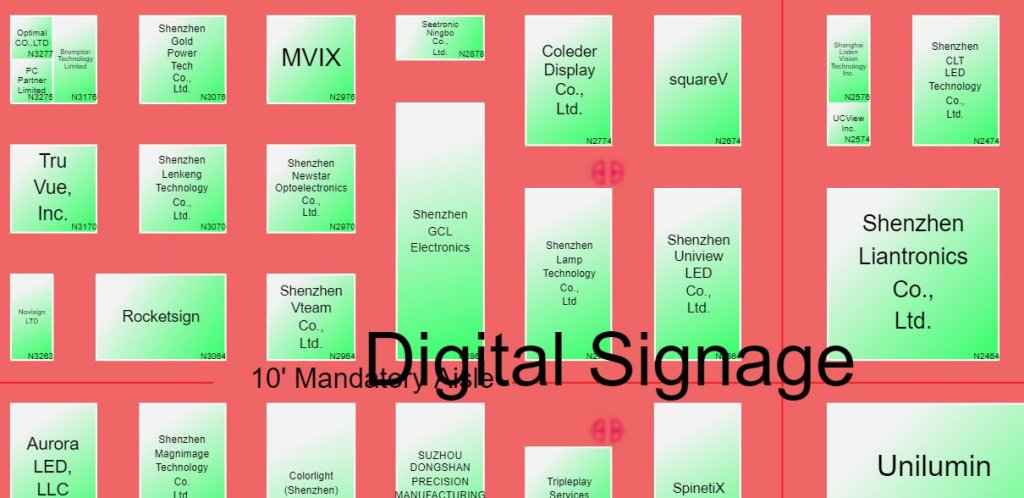 The fact that Shenzhen is the center of gravity of the Chinese electronics and digital industry, it was well known to us as well as others in the business, it is that just then is occurred to us, like in the "shoe store" example that maybe NoviSign should be present there? Create the right connections, build the partners eco system, connect with the strongest powers of the digital signage hardware industry, especially for the growing SMB market that keeps demanding low cost, yet highly effective solutions.
We still remember the first Android boxes that were tested with our digital signage software – it simply crashed after few minutes! A lot of water flew through Shenzhen river (Not sure there is such a river) since then, and the devices are robust and fully operational these days.
Of course, we are aware of the challenges and some may say risks of operating in China. The costs are also significant, but maybe it is the right place to be present at?
Shenzhen is the world center of digital signage hardware. To be or not to be (there)? That is something to think about!
Avi.
P.S. Our team is planning meetings for Infocomm expo. Regarding our booth location and set up in the show, we have noticed a nice thing: that the most common word there was "Shenzhen". Not only that the companies are from there, but all the names of these companies start with "Shenzhen" …
For example:
Shenzhen Linsn Technology Development Co., Ltd
Shenzhen EASTAR Electronic Co., Ltd.
Shenzhen Liantronics Co., Ltd.
Shenzhen Ruiling Optoelectronic Co., Ltd.
Shenzhen Uniview LED Co., Ltd.
Shenzhen Rcstars Technology Co., Ltd.
Shenzhen Lamp Technology Co., Ltd
Shenzhen GCL Electronics
Shenzhen Vteam Co., Ltd.
Shenzhen Lenkeng Technology Co., Ltd.
Shenzhen LongRun Optoelectronic Co., Ltd.
Shenzhen Kinglight CO.,LTD
Shenzhen Rong Electric Technology Co., Ltd.
Shenzhen Mary Photoelectricity Co., Ltd
Shenzhen Gloshine Technology Co., Ltd.
If you look at the expo map you will see it and seems like they got most space of the floor: https://www.expocad.com/host/fx/infocomm/18vegas/exfx.html#floorplan