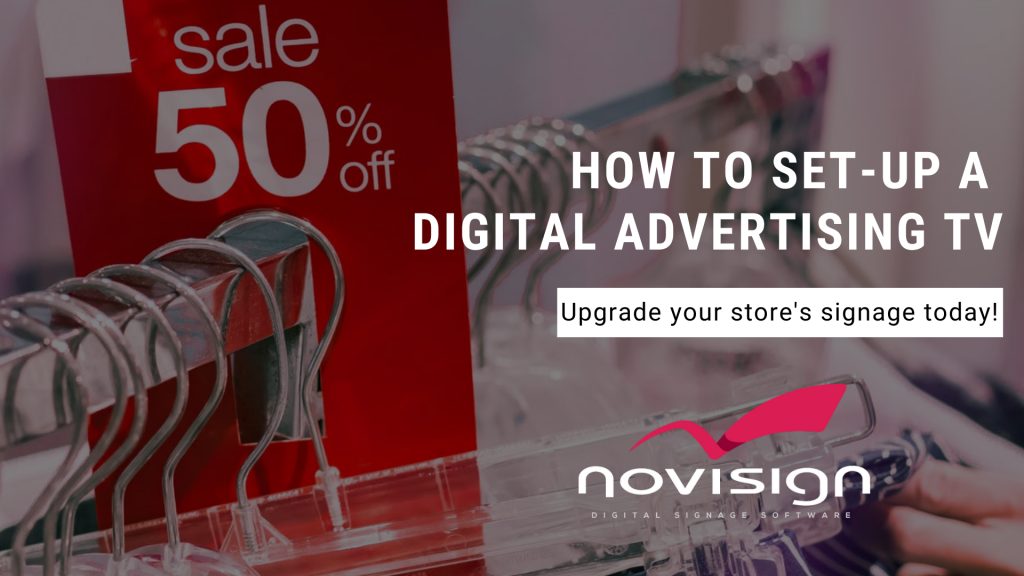 Let's first start with what a digital advertising TV is and how it can be used. A digital advertising TV is a TV that is used to promote products, retail specials and upcoming sales.
Improve in-store marketing and customer communications

Promote niche products and upsell services

Raise brand awareness and enhance product promotions

Spotlight customer loyalty and rewards programs
In its most common form, a digital advertising TV can be setup as a basic slideshow that rotates through advertisements. A more attention-grabbing set-up is displaying multiple zones of information and advertisements all playing content at once.
An example of this would be showcasing a video promotion in one section, a scrolling text ticker on the bottom and say a social media feed that is displaying your companies most recent posts. This type of setup grabs attention due to the various visual components and media playing through.
What types of media and advertisements can I display?
When it comes down to it, the sky's the limit. When using digital signage software, you can creatively design and setup the advertisements that are being displayed on the digital advertising TV.
Countdown timer
If you have a current sale or upcoming sale, add a timer that shows in realtime how much time is left till a sale expires or days to a new sale.
Videos and YouTube
MP4 videos and YouTube playlists can be added that features product commercials, how-to videos and product introductions.
HD Images and Presentations
Incorporate both 4K and HD imagery and slideshows.
RSS & Text Tickers
Add scrolling tickers of local or national news, weather and sports updates. You can also add custom text tickers that feature your messages and promotions scrolling across the screen.
Web Pages & Google Slides
Spotlight a specific section of your website on the screen or connect a Google Slides account that auto-updates as you update the sides.
Weather and Clock
Feature the current and or upcoming weather forecast with the local clock.
How to get started
For beginners, you will need a TV (any size and brand will work), media player and cloud-based digital signage software. A media player is a small device that connects to the TV via HDMI and the internet via WiFi.
Cloud-based digital signage software is a web-based platform that is used to design, setup and manage the content that you're displaying on the digital advertising TV.
About NoviSign
NoviSign is a cloud-based digital signage software platform. Using the included customizable templates and drag-and-drop widgets, you will be able to easily and quickly setup your content. Slideshows, images, text, videos and social media feeds are just some of the items that you can add to the layout of your content.
Pricing is $20 per screen.