What is hand sanitizer signage?
Have you seen those free standing hand sanitizer dispensers or hand sanitizer kiosks in malls, grocery stores, medical facilities and other high traffic public locations? On top of the sanitizer are printed static signs that feature advertisements or information about a company or organization that is sponsoring or paying to display their advertisement.

Hand sanitizer dispenser signage systems are useful because the passing by traffic is drawn to the hand sanitizer due to the free offering. While getting the free hand sanitizer, the audience stops and view the printed signage. This form of visual communications is a unique and eye-catching form of getting messages seen.

From being used for as a form of improving customer or patients to set up advertising networks hand sanitizer kiosks are one of today's newest and fastest growing forms of communicating.


Hand sanitizer digital signage
Hand sanitizer digital is the next logical step for taking your network of dispensers to the next level! Because digital signage allows you to display a series of advertisements, messages, videos, news feeds and other forms of communication, you can display more content in a short period. Also, you can remotely control the screen content from any computer at any time using a cloud-based digital signage software.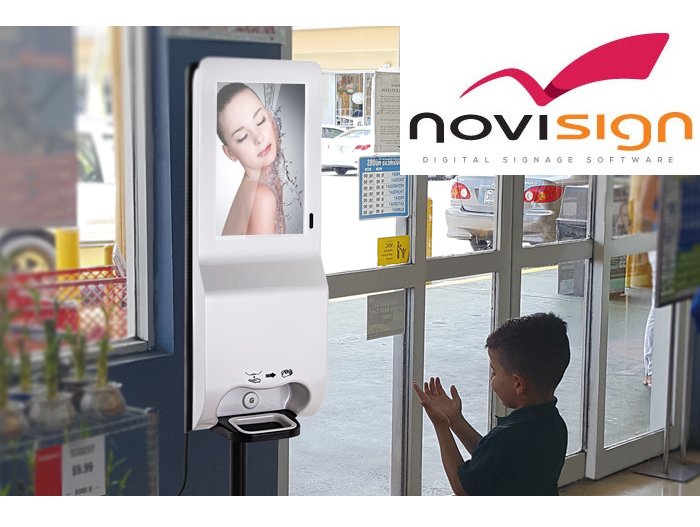 Types of hand sanitizer digital signage
Hand sanitizer digital signage systems come in two all-in-one styles; wall mountable or free-standing kiosks. The wall mounts hand sanitizer digital signs mount flush against the wall and are ideal for locations with limited floor space such as retail stores, nail salons, banks or medical clinics. Hand sanitizer kiosk systems are free standing units that are perfect for high traffic public such as malls, airports, grocery stores, schools or museums.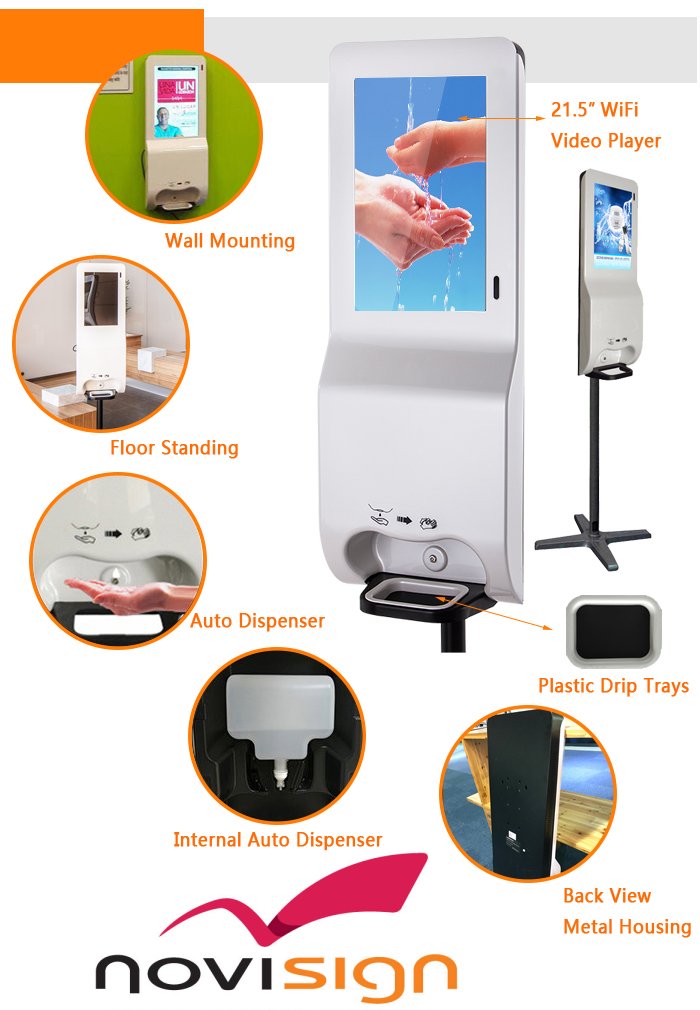 Hardware details
Hand sanitizer digital signage systems feature a sturdy metal enclosing and an integrated commercial grade 21.5" digital sign. Hand sanitizer digital signs come with a built-in hand sanitizer dispenser that supports gel, foam, or liquid sanitizer.
Supports WiFi, hardwired or 3/4G connection to the web
The internal automatic dispenser system
Built-in Android media player
Touch screen or non-touch screen
Digital signage software for hand sanitizer digital signage
To make changes to content, all that you need is a computer and for the hand sanitizer digital signs to be connected to the internet. Using NoviSign's cloud-based digital signage software you will be able to create, edit and manage all of the content of the display.
From displaying a split screen of dual running advertisements or a full-screen video, with NoviSign you will have full control. Design your content from scratch or customize one of the included templates.
Using the drag-and-drop widgets you can insert live RSS feeds, websites, media slideshows, weather forecasts, custom scrolling tickers, HD images, social media feeds and more!
If you're new to digital signage, click here to view our "what is digital signage?" post.
Scheduling, Analytics and Monitoring
Once you have your content made you can create playlists, schedule your content and set expiration dates! In addition, you can remotely monitor your hand sanitizer displays and see what playlist is scheduled to play.
In addition, with NoviSign you can track the analytics of the hand sanitizer and run a detailed proof-of-play reports:
Total number of the hand sanitizer dispenser
Be notified when the dispenser need a sanitizer refill
Run media proof-of-play reports
View the total number of media plays
Conclusion
At NoviSign, we have partnered with a world's leading manufacturer of hand sanitizer digital signage systems. Included with all of the hand sanitizer digital signage systems is NoviSign's software preloaded onto the device. We have thoroughly tested the hardware to ensure smooth and reliable playback of our software.
Since August 2018, we have successfully deployed over +500 NoviTizer digital signage systems that are being powered by NoviSign for the remote management of the content.
Corona Virus / Covid-19
Now, more than ever, when all the world is fighting the Coronavirus, where we all know that one of the most important factors after social distancing is to keep your hands clean all the time, not to touch the face and use masks. NoviSanitizer, is just ready to support clinics, gyms and any other healthcare facilities and public places to help your visitors watch their health, while you can broadcast promotion and information (such as health instructions) playlist to the screens, using the NoviSign digital signage for Android platform.
See our partners pushing the hand sanitizer gel dispensers to the field:

If your interested in learning more or are looking for a reliable company to work with on this, send us an email today! info@novisign.com
If you already got your NoviTizer, here is a user guide of how to configure your hand sanitizer.