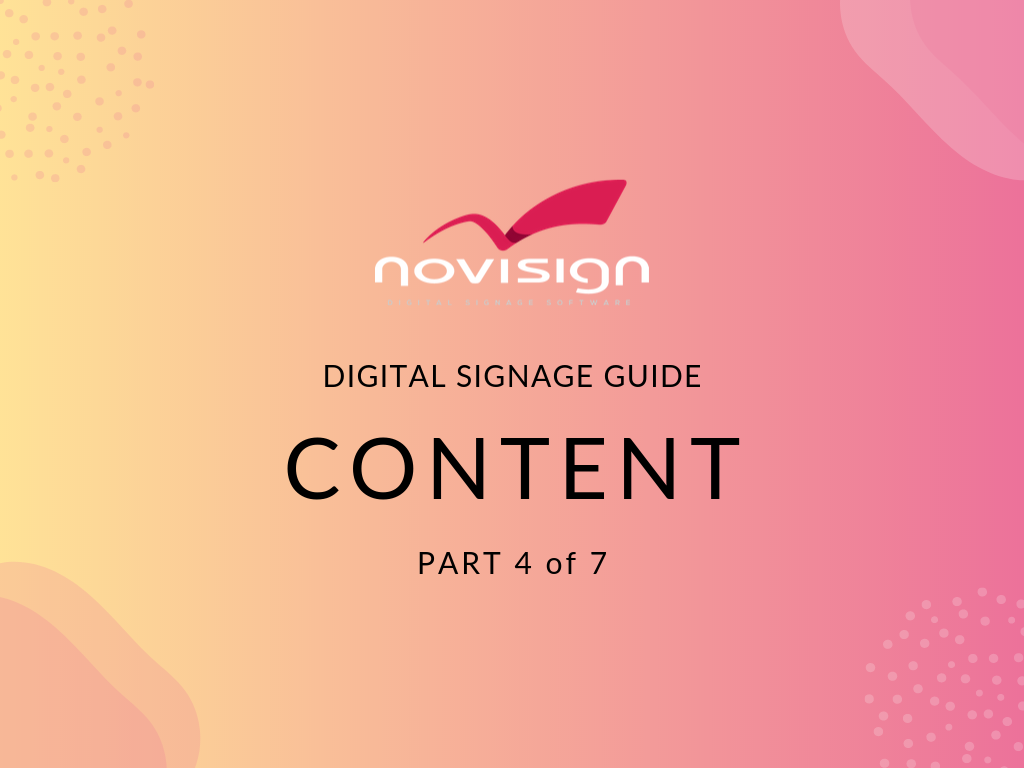 Digital signage is only as good as the digital signage content being displayed on the screen. It is vital to the success of your digital signage. A well thought out design is clear and to the point. When setting up your digital signage content, a couple of things to always remember include:
Short and consistent messaging

Good placement 

Direct call to actions
Digital Signage Content Design Basics
Compelling design comes down to balance. The way you use colors, text, shapes and space are critical to creating compelling and useful content. A well-balanced layout will pique the viewer's interest while bringing the various messaging and media being featured.
Keep it simple
Have you ever heard of the phrase less is more? If not, let's go over an example. Imagine seeing a screen that is displaying a plethora of text, images and videos all in one layout. This type of setup can be cluttered and hard to look at. Because so much digital signage content is visible on the screen, viewers won't know what to focus on. The key messages that you're looking to get across could get lost and not seen.
Effective digital signage content conveys a message with minimal distractions. The design is clean and does not have a lot going on. When working on your layout always step back and look at it asking your self "is the message I want to display easily visible?". Always remember less is more.
Digital Signage Content Layout Basics
Finding the perfect layout is hard and will often take several readjustment attempts.
Text:
Because the eye's read left to right, it is important to justify your content. This will even-out the text, so the words do not appear smushed together.
Colors:
Using the right combination of colors is one of the most critical aspects of digital signage content design. By going with a beautiful blend of high contrasting colors, you will improve readability while giving your content a visual pop. 
When it comes to selecting how many colors to use many graphic designers say no more than 3. The primary color should be used 60% in the design (for example the background), the secondary color 30% (for example, the background color for headers) and the third color 10% (the accent color, say boarders).
How It Visually Flows
This how your eyes will look at the design. Naturally, you look at things left to right. If a zone or section within your digital signage content is larger then the other your eye's will be grabbed to that area of the screen. So when setting up your design, remember how someone will first look at it, and what they will see next when scanning across the screen. 
Readable
When adding text to the digital signage content, remember that the average viewer will be within 5′-10′ away from the screen. If the message is crowded and too much to read reader, viewers will not view it or merely glance at the screen. Key things to consider:
Use large and easy-to-read fonts

Keep the message concise and easy

The text color should be high contrast with the background color
High Traffic Areas
If your using digital signage in venues are busy with lots of people passing by it is important to keep your content direct, short and quickly changing.
When designing the digital signage content, make sure to keep your images large and text phrases no more than five words. The designs should be free from graphics with lots going on to keep the viewers from being distracted.
Reception and Lobby Area Content
This would locations in which people spend time and or wait in. Doctors offices or near service desks would be examples of this. Because people spend more time in these areas, the viewing times of the digital signage are longer, enabling for more media-rich content.
Information, videos, news, scrolling tickers, and event listings would all be examples of engaging digital signage content that could be used to reduce perceived wait times while adding value to the viewer's experience.
Advertisements and Sales Content
Digital signage in point of sale environments needs to deliver clear call-to-action while improving the overall branding and image of the company. The company logo and colors need to be incorporated into the design. 
Try adding a combination of videos, in-store promotion slides, customer service information and don't forget to highlight your higher-margin items. The overall design needs to be visually consistent with your print and online website.
Conclusion
One of the main reasons digital signage is so appealing comes down to the flexibility of things that you can display on the screen. With so many options, you can be tempted to overcrowd the screen with information. Always remember that with digital signage content, less is more. 
If you need help we do offer custom digital signage content design. Learn more.
Check our other sections in our 7-part series "A Total Breakdown of Digital Signage":