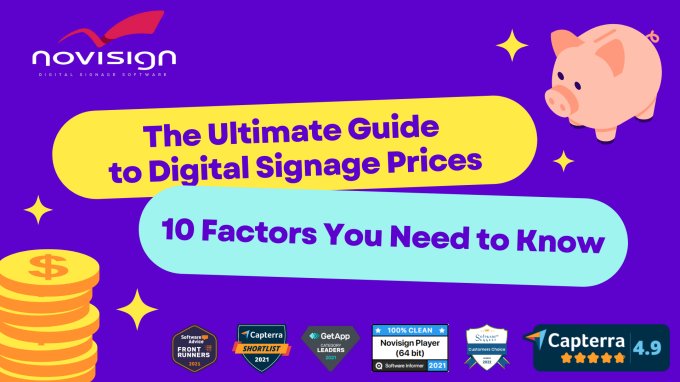 So you looking to set up digital signage but need to get digital signage pricing? Then, you've landed on the right article. This post will cover ten critical digital signage costs aspects to consider and go over unseen costs that often are overlooked and not calculated.
If you are looking for quick and easy pricing, drop us an email now. But, on the other hand, if you're looking for in-depth expert information around digital signage pricing, continue reading!
Digital Signage cost is affected by several factors
Some people don't think that digital signage is as good as it's made out to be. People who don't know much about digital signs think that big TVs or computer screens are what digital signs look like. The truth is that digital signs are a type of technology that is very different from other types of technology. They are made to make communication more accessible for businesses.
1. Digital signage Screen
In terms of commercial and consumer displays, there are two types of things:
A smart TV will cost less than one for a business for your home. There are, of course, some things to keep in mind when comparing consumer and business products, too.
A lot of people will see your signs. In the business world, signs are made to be more durable. To make things even better, commercial displays come with more extended warranties than those for your own house do. The reason warranties are essential is because they act as a "safety net" when things go wrong.
Because commercial displays have more computing power, they can be used to show more complicated media. As a result, you can make your signs less effective at getting your message across if you use a lot of videos. In the long run, this can make your signs less useful.
2. Size
If you want to use digital signage, you'll have to consider your needs and goals before choosing the best type. Many things can be used, like touch screens, video walls, kiosks and traditional displays can be bought. Think about where the screen will be and how they might be able to see it. We always suggest going with the most giant screen that fits your space. Go big or go home!
3. Digital Signage Player for digital signs
All digital signage needs to have a digital signage media player to show videos and other content. Media players are computers that can be used to display your content on the screen.
Different types of memory, speed and other things come with each person who plays the game. It would be best to think about this when you choose a media player because your signs can change. Cheap digital signage media players may not be worth it because they consist of low-grade materials and will cost you more to maintain in the long run.
4. Wiring and display mounts for digital signage
It's hard to figure out how much a display mount will cost because where the signs will be put is a significant factor. For example, if you want to put a display on the wall that's higher up, you'll need an angled mount. In some cases, you might need mounts that can be moved and have hinged arms.
Always, it makes sense to go with high-quality. Then choose a mount that is as small as possible. Finally, the signs should be the ones that draw people in.
Cables and mounting brackets can cost you anywhere from $99 to $500. When looking at the brackets, consider the tilting options and ensure your bracket fits the TV VESA mounting pattern.
5. Digital Signage Installation Costs
Labor costs can vary from place to place and from one company to another. However, a simple 55-inch wall-mounted display isn't the same as a whole wall-sized screen. A simple single-screen installation will cost about $200 to get done. The price can change a lot for big projects, so getting two or three price quotes is a good idea. Also, make sure your installer knows how to set up digital signs because things like wiring, mounting and screen angles need to be considered.
6. The Price of Digital Signage Software Licensing
If you need a lot of signs, there are two ways you can get a license:
In the cloud, you can use the software. However, the license fee is paid every month. There are a lot of benefits to using cloud-based software, such as This is a massive advantage because maintenance and updates are included in the price, which is a big deal.
A different name for software used in the cloud, called Software as a Service (SaaS), is a cloud-based digital signage software. When you install dynamic digital signage software on your own, you'll need some tech skills. You'll also have to deal with all the problems on your own. If you do both of these things, some IT training may be involved. There will be little to no training for SaaS options because the provider takes care of the backend. If you buy and install the software on your own, you will also have to deal with in-house training.
7. Installation and set up
In digital signage, provisioning is when you connect and set up your displays and players so that they can be used for digital signage. This process requires a lot of experience in the field of digital signage. So if you don't have the right tech people, you might want to hire someone else to do this job.
At this level, things like how much it costs to get Internet access and how much it costs to set up a network come into play. A rough figure for provisioning would be $249-$499 per display, plus any costs for broadband. Other things to think about here are networking and IT needs. This will depend on what you want to stream and how it will work with your communication systems. Finally, it's essential to remember that the ADA signage requirements will get stricter over time.
8. Cost of Making Digital Signage Content
When it comes to the cost of digital signs, this might be the most variable one. It all comes down to the digital signage content you want to show on your digital signs. People who want to pay for the text that isn't moving will spend more than people who wish to interact with touchscreen content. Content creation costs should be part of your overall digital signage campaign costs each month. In addition, there are separate costs for starting up and installing your site. These costs are not part of your content costs.
9. Unseen digital signage costs
There are many different ways that people use and pay for graphic design, video and other software-based content (like bus, train and plane schedules). If you use stock photos, you'll need to think about how much it will cost to buy a stock license. If you make your images, you'll have to pay the photographer, the models and other people who helped you make the images. Video footage will cost even more.
The information you put on your information screens must make sense and match your brand and the message you want to send. The wayfinding on a college campus, for example, should not be mixed up with the lunch options that students can choose from. The truth is that a whole team of content creators, a calendar and a strategy should be used to get the most out of your signs. This means considering the costs of having the work done in-house, by freelancers, or through a professional service or agency.
10. IT Help and Maintenance
Every digital system will need to be repaired or checked for problems from time to time. It might also be possible for an in-house IT team to handle this independently. If not, you should hire someone else to do it. Outsourcing is a good thing because digital signage experts know precisely how to deal with a problem. As a result, they can solve problems more quickly and, in most cases, for less money.
Digital Signage Cost Recap
The things you need to think about to start your project:
Digital signs or kiosk
Mounting brackets
Digital media player
Provisioning for an installation
Digital signage software
When you make sure the right content is sent out at the right time and to the right people, your message has a better chance of being heard and making sales. It will be better for the content ROI if there are ways to make it more dynamic.
Content Feeds and Streams
A person who creates content looks for and chooses high-quality, relevant content for a specific industry or subject. In addition, one can pay for these services, which will likely save money and time in the long run.
Independent VLANs help cut down on IT costs
VLANs can help keep network applications separate from each other on the network. When it comes to whether or not they are in the same physical network or not, there won't be a need for multiple sets of cabling and networking devices to be set up.
Deployment and Technology Upkeep
Hardware doesn't last for a long time. Besides, software updates are also important. If it isn't, it will soon be out of date because you need to plan to replace your things now.
Optimize the costs of technology refreshes
The more you think about this when you start to use the technology, or even before that, the better off you'll be. When you buy things, it makes sense to buy all of the same models if you can. This lets you figure out how long a product will last, so you can figure that out. Media players could be the first thing you want to replace, and then you could move on to video displays one at a time. Most important pieces of technology last between three and five years, but some last longer than that. Depending on how many hours a week you use it and what kind of climate you live in, this can also change how much it costs.
Avi.