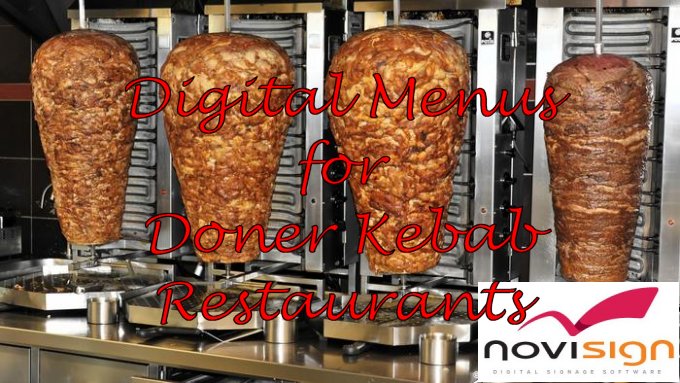 Doner Kebab is a Turkish oriented Fast Food that became in the last few decades one of the most (if not THE Most) popular fast Food counter in Europe and specifically in Germany, probably the biggest adopter of this tasteful Street Food.
The nation-spread of these Doner Kebab small counters vary from 1 – 5 small chains, up to large Doner Kebab chains of hundreds of "Branches". These stands are located everywhere and apart from the competition based on the tastes, flavors and the richness of the menu, they compete also on the visibility, speed of service and efficiency.
Digital Signage platforms are clearly part of the tools used by these Doner Kebab shops to address the visibility/marketing and efficiency competition. Digital Signage is the most effective tool for these businesses to present high Quality Digital menus boards, Pictures and Videos of the Doner Kebab and additional dishes, sales and promotions.
Recently, during the Social Distancing as part of the "Corona Times" we are facing (by the way, the Doner Kebab stands, being a fast food street business suffered the least from the quarantines), the digital signage additional capabilities such as high visibility digital signage sanitizers and even basic, digital signage based Kiosks for ordering and up to Queue management systems came into the picture as competitive and efficiency increasing tools.
Digital signage, as it became, in the last decade affordable to businesses of any size, and shows clear and tangible value has also improved significantly in the 'ease-of-use' area and therefore becomes popular also for businesses with low technological orientation.
Digital signage for Doner Kebab, no matter if it is one stand or a chain of a few hundreds, is a super effective tool to cope with the visibility, customer communication, sanitizing and even ordering needs!
Ibrahim.