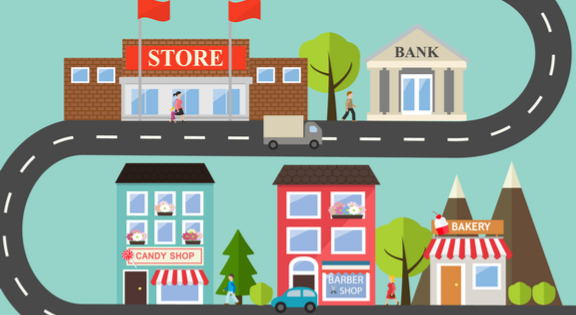 You don't have to be a technology expert or have graphic design experience to begin using digital signage for your small business. All that you need is a TV, a media player and have a digital signage software. Once up and running digital signage for small businesses can be used to:
Advertise new products and services
Spotlight special pricing
Promote upcoming events
Improve customer engagement
Add a modern look and feel to your business
Share company information
Welcome customers and special guests
Favorite Ways to Use Digital Signage for Small Businesses
With small business digital signage, you have the flexibility to display any combination of items (widgets) on the screen! You can create and send targeted content, messages, and notifications that talk directly to your customer's needs. Also, you can use digital signage for small businesses to broadcast on-the-fly last-minute announcements! Use small business digital signage to display:
Slideshows: add any combination of PowerPoint slides, advertisements, videos, JPEG images, or even stream a Google Slideshow
Scrolling tickers: grab attention with custom text notifications scrolling on the screen. From sales to updates tickers are a great way to communicate
Weather and news: add emergency weather alerts, forecasts, local news, and national headlines
Customer service: display customer FAQ, return policies, hours of operation and general information
Instagram, Twitter, and Facebook: add your live social media streams to drive customer engagement
Benefits of Digital Signage for Small Businesses
The benefits of digital signage for small businesses are virtually unlimited. From improving shopping experiences to being able to broadcast information quickly, digital signage for small businesses is your in-store marketing machine!
Save money on printed signage
Make quick and easy changes to the content
Update the screens from any computer at any time
Schedule updates to display on specific dates and times
Encourage impulse purchases with exclusive sales
Upsell and cross-sell products and warranties
Promote customer loyalty and rewards programs
Add engaging Twitter, Facebook and Instagram feeds
Reduce perceived waiting times of lines
Share time-delicate advertisements
Display informative videos on new products
Items Needed For Small Business Digital Signage
It starts with a TV. You can use a regular TV, or if you're looking to run the TV's for 12+ hours a day, you can go with a commercial grade digital sign. Please note that a commercial grade digital sign is typically 2X more expensive than a regular TV. Key benefits of a commercial grade digital sign include
Designed for 24/7 usage
Built in the cooling system to prevent overheating
No image burn-in
Aluminum enclosure
Once you have your TV selected, you will need a digital signage media player. A digital signage media player is small form box that connects to the TV via HDMI. Popular media players include Android, Chrome, and Windows. You can also use an Android TV. On the media player, the digital signage software runs.
An Easy Start to Digital Signage for Small Businesses
If you're reading this and have no idea where to start follow these instructions:
Sign up for a free trial of NoviSign Digital Signage
Purchase this digital signage media player (It is specially designed for digital signage)
Connect it to any TV via HDMI
Turn the media player on and open the NoviSign app
Log-in it to your NoviSign account and click Let's Roll
You're done
About NoviSign Digital Signage
NoviSign offers affordable and easy to use cloud digital signage software for small businesses. Cloud-based means you can update the screen content from any computer at any time. All of the changes that you make on your computer will update within minutes on the screens. Our small business digital signage solution costs only $20.00 per month / per screen plus we have a special small business discount!
Using NoviSign, you can create a visually engaging layout of content that features:
HD Videos
Media Slideshows
Scrolling text tickers
News Feeds
Weather forecasts
Clock and Time
Websites
Instagram
Twitter
Facebook
YouTube videos
And more!
Do you have more questions? Check out our customer FAQ