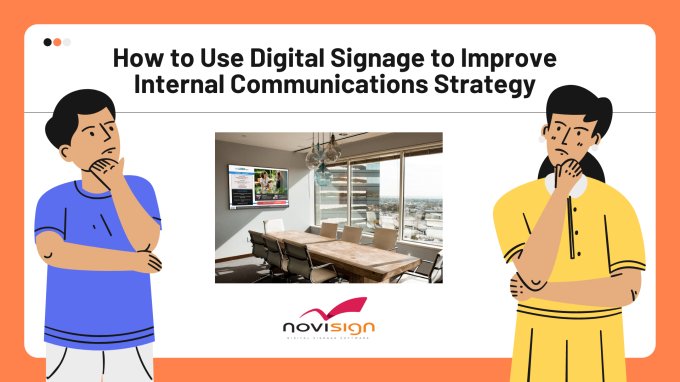 Successful internal communication is vital to all businesses.
Business owners have to connect with their employees, keep them up-to-date and inform them effectively. This is the reason why several organizations are turning to digital signage to enhance their internal communication efforts.
Have you noticed that digital signage in building lobbies and elevators? Some display welcome messages, company videos, the latest news and updates and a lot more. These signs not only create an excellent impression to visitors but also boost employee engagement.
Improve communication
Companies using digital signage, communicate with employees more effectively. They are replacing their bulletin boards and hard copy notices in their lobbies and office areas with digital billboards.
However, distributing messages and displaying essential information to every employee can be difficult. As some emails do not get read and some personnel is on the go, digital signage ensures everyone remains on the same page.
For larger businesses with different locations, consistent messaging can also be a problem. Having digital signage is an opportunity for the main office to have a presence in all its business locations.
Some of the many benefits that corporate communications digital signage brings include:
Keep employees informed about important announcements
Cut paper clutter, unread emails and print communications with updated content
Utilize hallways, lobbies, reception, elevators, conference rooms and cafeterias where employees gather
Ease of communication as information can be distributed to many locations
Create customized messages for specific audiences and locations
Prevent workplace accidents through visual safety announcements
Increase employee engagement by recognizing their contributions
Improve customer service through digital videos
Highlight community involvement and other activities
Reach visitors in your organization with upbeat and exciting news about your business
Motivate employees
Corporate communications Digital signage presents a change in the way companies talk, engage and informs their employees. It helps facilitate messages with maximum impact. Using digital signage for corporate communications to broadcast news and reach everyone with internal messages keeps everyone informed and inspired. This boosts employees' morale and stimulates a positive work environment.
Also, highlighting accolades and providing recognition to employees on their birthdays or anniversaries can be done through digital signage.
Create a strong corporate culture
More and more companies are taking advantage of creating positive change across their organization. They realize that a stronger connection between employees and the company drives overall business productivity.
Digital signages are used to distribute messages and communicate mission goals. It also helps recognize worker's performance and project milestones. It keeps everyone aware of what's happening in other departments. In turn, internal marketing is enhanced while turnover rates are lessened.
It can also be used to show upcoming company events and display emergency alert messages.
Reach employees on-the-go
Not all employees are sitting in front of their computers waiting for a company email. Digital signage for corporate communications is a powerful way to reinforce company announcements, especially those on their way to a meeting, working in the field or on the factory floor. For instance, company drivers, factory operators, salespeople, etc., could miss an urgent email since they're heading out the door. Having digital signage across office locations makes a big difference.
Quality and affordability
NoviSign's cloud-based digital signage software for corporate communications provides organizations with a solution to improve their efficiency, messaging and employee satisfaction. It allows businesses to communicate more straightforwardly and creatively using an easy-to-use network. In addition, these digital signages are durable and affordably priced.
Whether you're a small business or a large organization with multiple offices, NoviSign can bring a massive significance to how you communicate internally. The positive impact it gets to your organization – from boosting employee morale and increasing employee engagement to stimulating a positive work environment – is beyond compare.