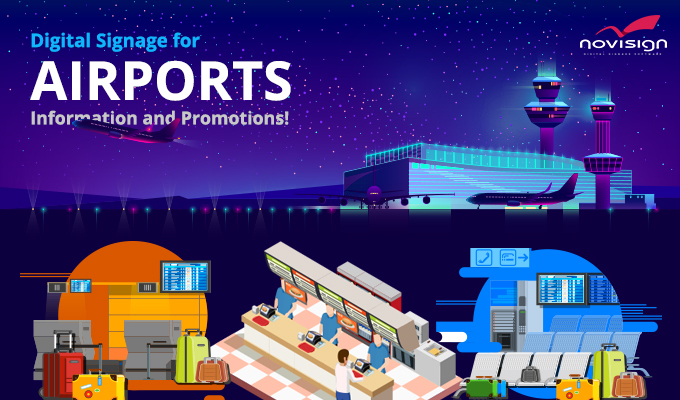 Digital Signage for Airports is one of today's best and most effective forms of sharing information while improving the travel experiences of patrons. Because digital signage for airports is dynamic the ability to display notices and other forms of on-demand information is virtually unlimited.
From database integrations that streamline the way announcements are shared to creating informational boards that share airport related notifications, airport digital signage is your gateway to broadcasting to the minute news.

Flight Information Displays
Flight and gate changes can affect both flyers and airports. If a passenger is aware that their flight was delayed for an hour the odds that they will spend additional time at various airport business looking around improve.
By making it easier for travelers to access by the minute flight and gates changes you are improving the overall flying experience. Flight Information Displays AKA FIDS allow for travelers to better plan around travel changes thus reducing stress.
With flight information displays you can display any combination of media zones and communications:
Share real-time flight status updates, gate changes and delays

Promote airport related amenities, restaurants, area hotels and other businesses

Reduce perceived flight waiting times with interesting infotainment, videos and trivia

Sell advertising spots on the screens to area businesses

In one-half of the screen display, canceled flights and the other half share discounted hotel rates
Airport Experiential Boards
Aside from displaying flight information, digital signage for airports can be used to share valuable airport related customer service and business information. From sharing food, beverage and concession options to promoting retail stores, airport digital signage can be to highlight airport amenities, businesses and services.
Add airport

touch screen wayfinding

maps that provide turn by turn directions

List Wi-Fi login procedures and rates

Share guest service and relations policies

Display TSA security policies and screening policies

Local weather conditions and forecasts

Concourse and gate dining and shopping options

Parking rates and lot maps
Airport Digital Signage Informational Displays
Airports are one of today's busiest working environments. From making sure things are getting done on time according to schedules to continually having to update changing flight information to dealing with flyers that are stressed out, airports need an easy and effective way to disperse and share information.
Using flight information displays, airports can connect data sources with the screens to streamline and automate the distribution of information.
Display real-time security line check-in times

Average terminal taxi wait-times

Terminal parking lot availability

Connecting flights and baggage claim listings
About NoviSign
NoviSign is a cloud-based digital signage software platform that powers over 20,000 screens across 5 continents. Using the drag and drop widgets and the free form design studio users can design and manage their content. With NoviSign custom flight status and other database integrations are available that will eliminate the need of users to manually update information twice.
Once your content is deployed you can remotely monitor the status of your screens with reports dashboard. NoviSign runs on ChromeOS, Android and Windows players plus supports off-line play. Try out today free for 30-days.