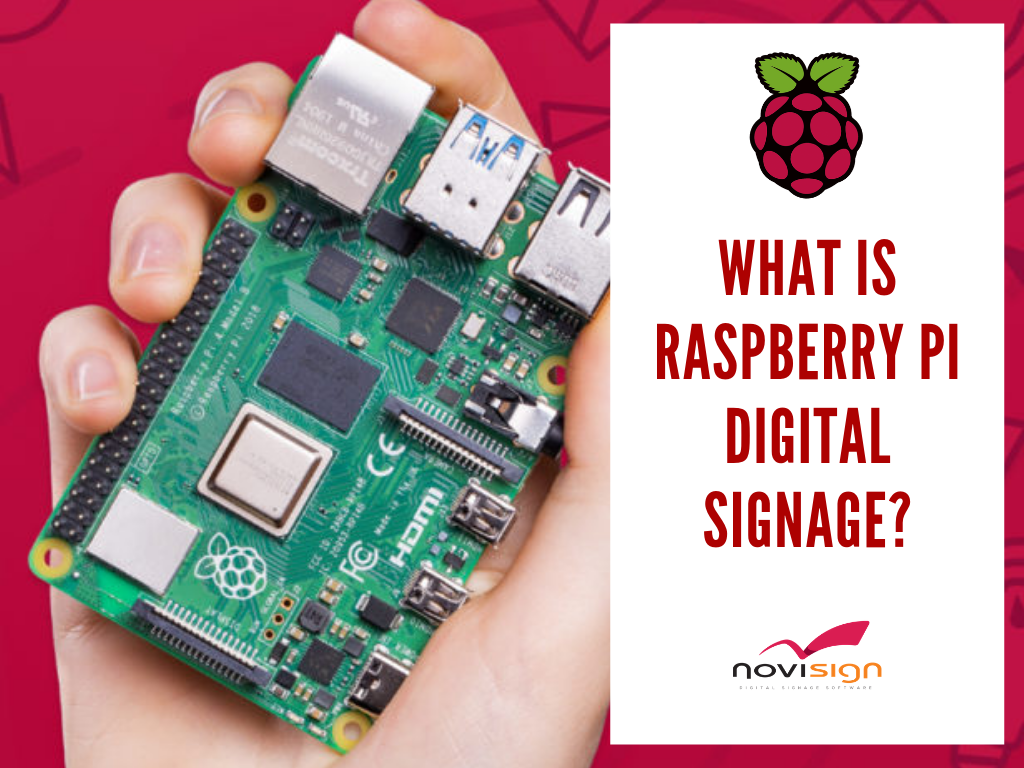 What is Raspberry PI Digital Signage?
Raspberry PI Digital Signage is the process of setting up a Rasberry PI device to stream content to a display. The essential items you will need to run raspberry PI digital signage include:
Raspberry PI 

SD card for storage

A power supply

Remote access to the device

Internet connectivity to the Raspberry PI

Auto-boot to desktop
You will need a digital signage software platform to create and manage the screen's content, but we will address this part later.
DIY Digital Signage
Using a Raspberry PI for digital signage is what you call a do-it-yourself solution. You will need a reasonably extensive background with technology and must have the know-how when it comes to setting up and configuring the raspberry pi for digital signage. 
Many times we hear horror stories about companies that purchased a Raspberry PI device and tried installing an 'open-source digital signage software' onto it but experienced many challenges:
Overheating and freezing of the Raspberry PI

Media playback resizing set-backs

Cannot set kiosk mode for digital signage

SD cards won't work for storing media

Unable to play multiple zones of simultaneously playing media
Remember, because the average person isn't familiar with raspberry PI digital signage, you will be the go-to person for support.
Raspberry PI Digital Signage Software
To get content onto the screen, you will need digital signage software. This is a cloud-based platform that allows you to create, design, and manage the content of the screen with. Good digital signage software needs to be easy-to-use and most importantly stable. 
There are many raspberry pi digital signage software companies out there but when it comes down to it ease-of-use and functionality is critical. Now remember when evaluating a digital signage software:
Does it do exactly what you want?

What kind of 

widgets

 are included with the software?

Can the software be easily installed onto the Raspberry PI for digital signage?

Does the software run-well on the raspberry PI?
Conclusion
Because digital signage is only useful if it's seen the content being displayed on the screen must be always up and running. This means when you power on the TVs on the Raspberry PI for digital signage, it must automatically come up and begin playing. After 6 hours of playing the device cannot freeze or just randomly stop working.
With that being said and based on frequent calls, we receive Raspberry PI digital signage is something we don't recommend.
Another issue is the firmware: in most cases, you'll have it hard (or impossible) to find Android or Windows-based firmware for Raspberry PI, as the most common one is Linux or something which is Linux based. Please notice that NoviSign's app runs on Android, Windows, and ChromeOS. Not Linux. Well, at least not for now.
Now if you're looking at raspberry pi digital signage as a side project that won't be deployed in an environment needing digital signage, then go for it. You have nothing to lose!