Introduction: What is Digital Signage and How Can it be Beneficial for Your Business?
Digital signage is a technology that allows businesses to use digital content to display information on a screen. This technology has evolved over the years and has become a popular tool that holds many advantages for real estate companies.
There are many ways digital signage can be used for real estate purposes:
Show property listings: Displaying properties on digital signage allows potential buyers to view properties without getting out of their car. It also gives them the ability to search for specific properties and narrow down their search criteria.
Display advertisements: Digital signage ads are highly targeted because they allow more precise targeting than TV ads or billboards. They also provide advertisers with data about how many people watched their ad and which demographics were most likely.
Digital signage is an effective marketing tool for real estate companies because it provides an opportunity to create an engaging experience with the customers. It also allows them to reach out to their target audience more personalized manner.
Real estate companies widely use digital signage for many purposes such as advertising, marketing, sales promotion, and customer service.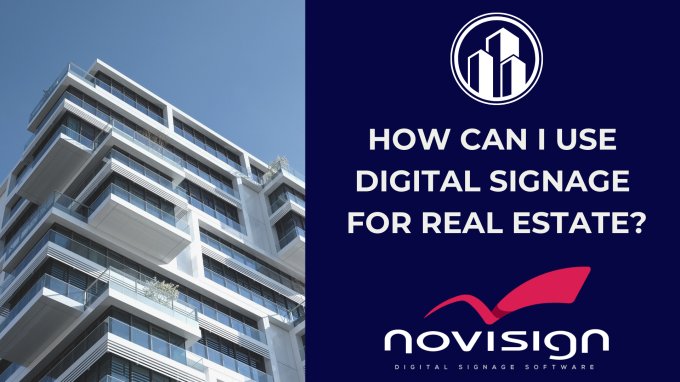 Digital Signage Advertising Strategies in the Real Estate Industry
Real estate advertising signage is one of the essential marketing tools for real estate agencies. It helps them reach out to their target audience while increasing their brand awareness among potential clients. When using real estate digital signage, you can promote your property through digital signage advertising strategies in the real estate industry. Real estate Digital signage is a new and innovative way to advertise your business. It is a practical, affordable, and high-impact form of advertising that can be used in many different ways.
Real estate companies can use digital signage for advertising their properties to sell them faster and earn more profit. There are various strategies to use digital signage advertising in the real estate industry, but most are not very effective because they don't generate enough traffic or revenue.
The key is to focus on generating many leads through digital signage ads instead of just getting people to stop by your property for a quick look around.
What can I display on the screens?
Digital signage is an excellent tool for advertisers, property managers, and real estate marketers. It can be used to create an immersive experience for the viewers.
Real estate digital signage can provide information about properties, tours, and events. This can be done by using a combination of video and static content. The content can contain images, videos, texts, and interactive elements that are easy to understand.
Digital signage works by displaying information on a screen or at the business's physical location. It may also include video, audio, or other multimedia content. The digital display can be seen from anywhere in the vicinity, so it's possible to use it to reach out to potential customers while they are still driving past your property on their way to somewhere else.
Conclusion
Using NoviSign's cloud-based digital signage software, you will be able to remotely create and manage your real estate digital signage screens. All that you need is a computer to get started! You can try it out today for free for 30-days. Sign up now.