It's simple. The way hotels communicate with guests is critical. From the minute a guest walks into your door they have immediate questions and are expecting top-notch service. For hotels to be successful they need to find the right communications technology that streamlines internal communications while enhancing the overall interactions between guests and hotels.
Hotel Digital Signage Application Examples
Hotels have been using digital signage for the past decade. The technology isn't new but rather the guests are ever more connected with technology and except for things to be current and trendy. Because hotels have a wealth of information to pass on to their guest's, hotel digital signage serves as a vital gateway to broadcasting daily communications.
Digital signage for hotels can be used in virtually any environment in which a guest passes by or spends time. From the lobby in which the first enter to hallway event areas, hotel digital signage can be used to enhance overall engagement levels while streamlining the way on-demand hotel information is shared.
In high traffic locations, information boards contain wayfinding related information can be installed. On these screens, property maps can be listed featuring static or interactive maps that provide turn by turn directions to venue locations, on-premise restaurants, the pool and other property locations.
In addition, hotel amenities can be featured, business center hours and local area attraction maps can be added to the hotel's digital signs.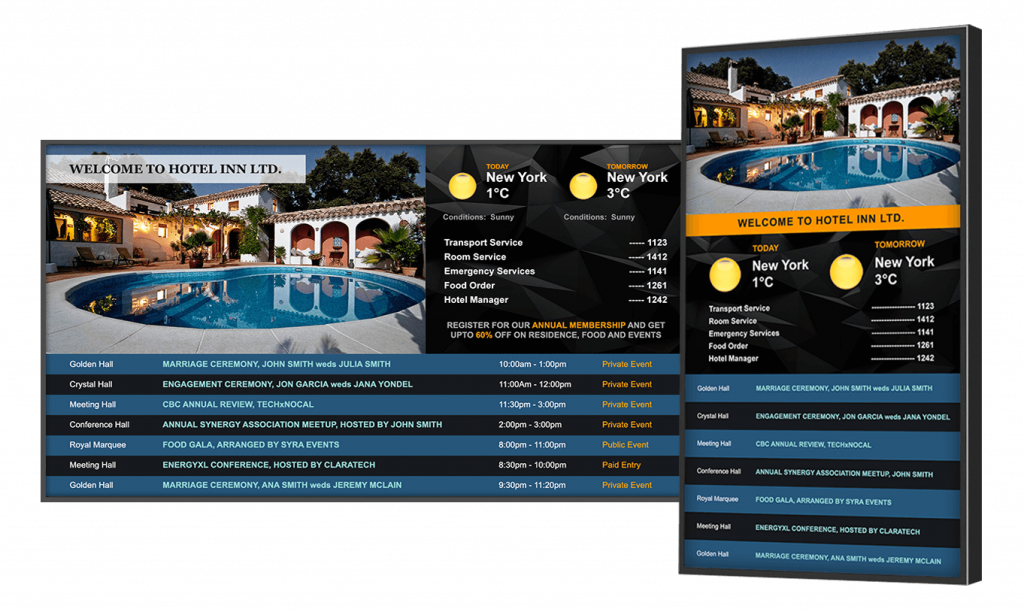 Get Creative
From enjoying a nice vacation or traveling for business, hotel guests are always seeking an enjoyable and relaxing experience. By making it easy for your guests to access important and relevant information you creating positive interactions that are remembered and valued by guests. In addition, hotel digital signage eliminates the need for ever having to print new posters, brochures, and other static signage.
Let's now look at the top 8 ways hotel digital signage can be used today:
1. Amenities & Promotions
Display new hotel travel deals, upsell special breakfast options, spa package sales and fitness center hours.
2. Experiences
Share area event schedules, local area attraction maps with descriptions and recreational activity listings.
3. Dine & Drink
Add digital menu boards to your on-premise restaurant and bar that highlight signature menu items and desserts.
4. Weddings
Add custom welcome messages, feature images of the couple, incorporate scrolling text tickers and the wedding itinerary.
5. Events & Meetings
List daily and upcoming schedules, meeting times, floor plan maps with directions and information about the facilities.
6. Rooms & Suites
Add panoramas and images of your featured signature rooms and upsell room rental deals.
7. Digital Concierge
Display taxi, airport, and shuttle information, shopping information, area attraction maps and local movie theater times.
8. VIP Services
Spotlight on-call babysitting services, transportation rental options, restaurant reservations and pet walking services.
9. Social Media Streams
Incorporate your Instagram, Twitter and Facebook feeds that spotlight and cycle through your most recent updates and image.
10. Things To Do
Feature a top 10 list of fun local destination points of interest. Include images, videos and maps.
11. Employees
Add screens in your employee break rooms and display property news, spotlight birthdays and HR notifications.
Conclusion
Hotel digital signage is the perfect solution for creating a modern and enjoyable experience for guests. The benefits are endless and the opportunities in how you use digital signage for hotels are unlimited. If you're ready to get started but have initial startup question check out our 5 step guide to hotel digital signage.