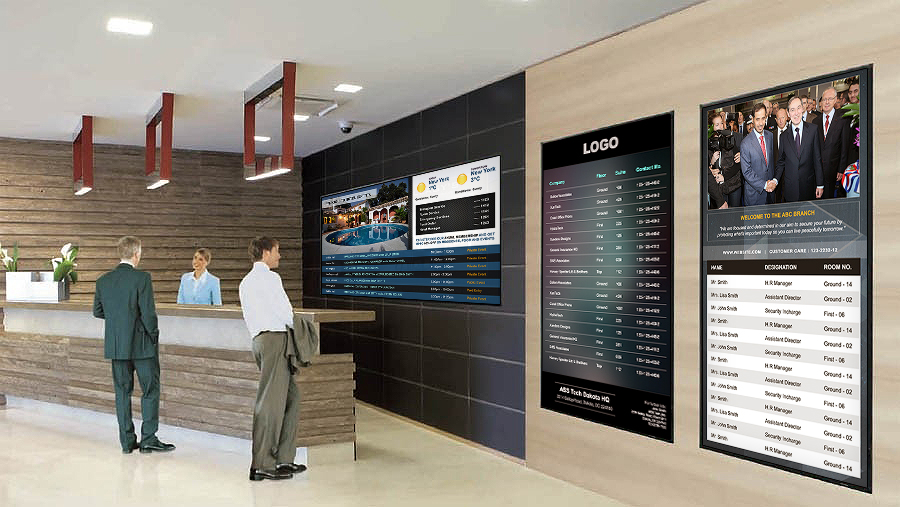 Digital Signage for hotels can be used to enhance quest experiences, improve brand recognition and upsell unique offerings and services. When deployed, you can use digital signage for hotels to broadcast property notifications, share event listings for conference rooms, highlight amenities and more!
Hotel digital signage brings a new layer of flexibility to on-premise marketing. Using NoviSign's digital signage for hotels, you can quickly make edits to your screens content and show an unlimited mixture of announcements, custom tickers, news feeds, videos, schedules and other forms of media.
You can use hotel digital signage to display:
Images and Videos: add media slideshows, photos, clips, commercials
Amenities: showcase featured accommodations and services
Local attractions: add area maps, lists of restaurants, shopping malls, etc.
Hotel Information: feature guest feedback, specials and guest messages
Create Remarkable Guest Experiences
Create a modern look and feel that is visually appealing and engaging. You can install hotel digital signage in your lobby, conference areas, restaurant and other high traffic areas of your hotel. Once installed you will be able to remotely update the content of each sign, then send targeted location specific content to each sign located in your hotel. This makes it easier for your hotel to share important updates and information with your guests.
Place emphasis on your hotels services and amenities
Incorporate social media feeds; Instagram, Twitter and Facebook
Share customer testimonials, awards and images
Add digital menu boards to your bar and restaurant

Event and Meeting Displays
Digital signage for hotels can all be used as room boards. Add 10" – 15" digital room boards outside of conference and events room. On these hotel digital signage boards you can display the status of room, if it is occupied, name of the event and that room's schedule for the day. This form of digital signage for hotels makes it easier for your hotel guests to find events and a rooms itinerary for the day!
Add venue names and events descriptions
Custom welcome groups to an event
Show directional arrows to meetings and rooms
Upsell services or WiFi access
All-In-One Hotel Digital Signage Software
NoviSign's Digital Signage for Hotels is the easiest to use platform for hotel digital signage. The software is specially designed for hotels and enables your front desk, marketing and management team to easily and quickly remotely manage your hotel's digital signage. From any computer at any time you can edit the screens content, schedule playlists to play and update the signs. Add dynamic media slideshows, social media streams, customer text tickers, local news and weather and more!
Use any screen, tablet, or kiosk
Runs on Chrome OS, Android and Windows media players
No setup fees or required maintenance contracts
Cloud-based and comes with over +20 drag-and-drop widgets
Almost all content caches and play if your network is down
Remote monitoring and advanced scheduling
Full training and support is included
Related links: