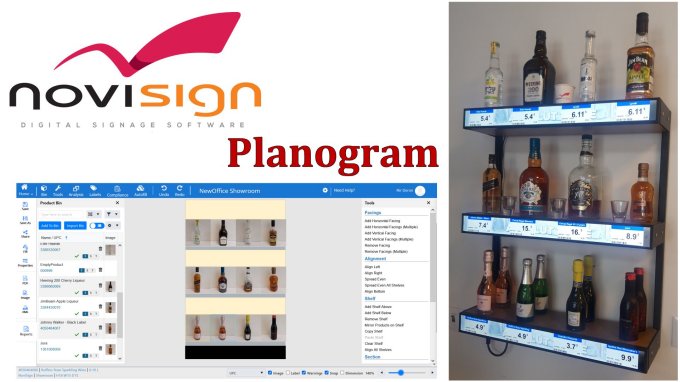 Recently we added a planogram system to our retail solutions arsenal for better retail digital signage experience. The planogram system is integrated with our online Studio CMS. Now, what is a planogram? A planogram is a software that shows you a layout of your actual shelves and sections in your retail store and also has your inventory of products you have in your store. The idea is that in the planogram software you can actually set the order of how your shelves and sections will look like and exactly where each product will be on each shelf. Planogram software should be easy as any drag-and-drop software and this is how our planogram is.
The next level which we took the planogram was to integrate it with your digital signage CMS Studio, which actually allows you to set softlabels over your store shelf edge displays, price checker kiosk and other displays as well and that is integrated within the planogram software.
The meaning is that once you make a change in your planogram software, the change will be instantly reflected on the shelf edge displays in that store's section. You don't have to repeat the change elsewhere! Just imagine how easy it's going to be to alter the positions of the products in your shop. Piece of cake.
Lastly, we can integrate our digital signage Studio with the planogram software which you already have to get the same effect of Android based eShelves (shelf displays) showing soft labels which are managed by our CMS and integrated with your planogram system. Voila!
Here is an example video to show you how it works:

Nir.