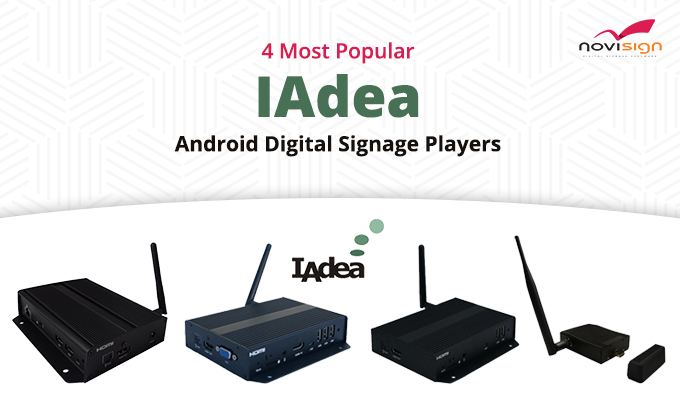 In the crowded space of android digital signage media players, it is hard to know what digital signage player to go with. From cheap Android TV boxes on Amazon to commercial grade finding the right android digital signage player is a key component to your success.
At the end of the day, you need a digital signage player that is reliable and robust. The last thing you need is a system that freezes up every day. One company that we've tested and recommend is IAdea.
Who is IAdea?
IAdea is a manufacturer of commercial grade android digital signage players and touches smart signboards. They have been in business since 2000 and were one of the first manufactures to release commercial-grade Android media players. To this day they have IAdea has over 250,000 devices deployed globally and IAdea has won multiple industry awards includes 2017 DIGI Award for Digital Signage, Top 100 RED HERRING ASIA Award and 2018 CIO Review Most Promising Digital Signage Solution Provider.
What does IAdea manufacture?
IAdea is internationally known for its line-up of high-performance Android digital signage players. Their system is known for high quality, reliability, robust specifications and are 24/7 rated. IAdea players are compatible with 3rd party digital signage software projects and come with a player remote management software called IdeaCare allowing for one-click troubleshooting, player device health status and player management.
IAdea Android Digital Signage Players
Now we're going to cover the top 4 most popular players that IAdea offers.
1. IAdea XMP-7300
The IAdea XMP-7300 is a high-powered 4K Ultra HD Android digital signage player. The player supports H.265/HEVC codecs that play 1080 to 4K video playback at high-bitrates allowing for crystal clear UHD video. When it comes to building it features a fan less rugged metal enclosure that for industrial grade performance that is both shock and vibration resistant.
The IAdea XMP-7300 is also rated to operate in temperature ranging from 0-50 degrees Celsius. When compared to Windows players the IAdea XMP-7300 generate 6X less CO2 emission making it a genuinely eco-friendly android digital signage player.
2. IAdea XMP-6400
The IAdea XMP-6400 is a 1080P HD Android digital signage player that comes with an HDMI In port which allows for live video playback. This feature makes it the perfect solution for applications that are looking to incorporate live TV feeds with other content. Examples of feeds include a camera, live TV and cable boxes.
When it comes to specs, the IAdea XMP-6400 also comes with a metal chassis which is excellent for heat dissipation. A dual HDMI output is also included allowing you to stream content to two displays at the same! It is rated to run in temperature ranging from 0 to 50 degrees Celsius, is HDCP 1.4 compliant, supports IP streaming, and features RS232 connection.
3. IAdea XMP-6250
The IAdea XMP-6250 is an Android digital signage media players that supports crisp 1080P/30Hz video and HTML5 content playback. It is rated for 24/7 usage, is fan less, and comes with a sleek built-in self-recovery option that allows for steady content playback even if something happens.
The IAdea XMP-6250 comes with a rugged metal chassis that features a built-in cooling system that extends the life cycle while maximizing up-time. It supports both digital and analog audio and comes with 8BG eMMC storage. A micro-SD port is also available that supports up-to 32GB.
4. IAdea MBR-1100
The IAdea MBR-1100 is another wireless Android digital signage player that is small in design. It is a USB style (palm size) player that allows for easy and quick HDMI direct installation. It supports WiFi and Ethernet connection and plays back content in full motion HD. It also comes with 8GB eMMC storage. For
Conclusion
If you're looking for a reliable and robust Android digital signage player consider IAdea. Their devices are designed especially for commercial applications and provide the dependability needed for business owners that are looking for a digital signage media player that just works!