A Digital signage player is one of the most critical elements of digital signage. Digital signage players are range from 4" x 4" x 1" to 6.5″ x 4″ x 2″ in size and connect to any display or kiosk via HDMI. The most popular and common forms of digital signage players are Android, Chrome OS and Windows.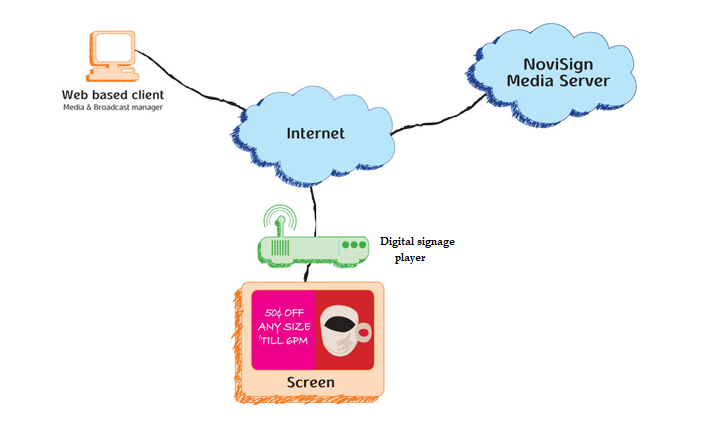 What does a digital signage player do?
Digital signage players play the media for your digital signage. Every couple of minutes the digital signage player will check the internet (cloud) for new updates, download them and play the content back on the screen. Using a digital signage software and its widgets you will be able to create and update your content, then send it to your digital signage player/screen or kiosk.
It usually only takes two minutes for your new updates to go live on the digital signage player. Depending on the digital signage software you choose, the content caches locally onto the digital signage player and continues to play even if the internet connection is lost.
Examples of media that can be played on a digital signage player include:
Scrolling RSS news
Custom text tickers
Images, videos and slideshows
YouTube and Ustream
Google slides and sheets
Weather forecasts
Live feeds
Web images and web pages
Social media streams
Android Digital Signage Player
Android digital signage players are one of today's most popular options. The two most reliable and powerful Android digital signage media player are:
Geniatch APCC39R: industrial grade, metal chassis, HDMI-IN ports, 4K, ARM T890 Processor – $99.00
Minix X10: Commercial grade, 4.17" x 4.17" x 0.75", metal chassis, an octa-core processor, 4K
Advantech USM-110: Commercial grade, metal chassis, quad-core processor, 4K, dual HDMI output and security mounting bracket
Due to their small form factor and low cost of entry these digital signage players are an ideal solution for digital signage. Available all the way to 4K and robust Octa-Core processors, Android digital signage players offer smooth media playback and best-in-class performance.
Also available are consumer grade Android TVs and commercial grade digital signs that have individual Android SoC media players built-in. Displays with built-in Android digital signage media, players save you money by eliminating the need for purchasing an external digital signage player plus you won't have any items hanging from the back of your display.
Phillips, Sharp, ViewSonic, GoodView and United Visual Products all offer Android displays and digital kiosks.
Additional benefits of Android digital signage players include:
Easy and fast setup
Designed for 24/7 usage
Metal chassis and industrial grade components
Firmware can be optimized for digital signage
WiFi, Ethernet, 3G and 4G simm cards for internet
Supports touch screen
Additional information:
Chrome OS Digital Signage Player
One of the most significant advantages of Chrome digital signage players is its lightweight OS and chromes device management. The two most popular Chrome OS digital signage player are:
Chromebit

The size of a USB stick, CS10 Rockchip processor, WiFi and cost-effective

Chromebox

Intel Celeron 3865U, 4K, commercial-grade components, WiFi
Chrome OS digital signage players are fast and reliable. The media playback on Chromebox especially is crisp. When using Chrome OS digital signage players, you can take advantage of the Chrome OS Google Device Management that allows full admin control over the devices. Control network configurations, auto-updates, remotely install apps, reboot devices, monitor device status and more.
Related Chrome OS digital signage articles:
About NoviSign Digital Signage Players
NoviSign's digital signage runs on Chrome OS, Android and Windows. To get started simply sign-up for a free trial of NoviSign and install our app on to the digital signage player of your choice.
Using NoviSign, you will be able to create easily, edit and manage all of your digital signage players content. From any computer at any time you will be able to:
Design and update your content
Create playlists and schedules
Remotely monitor all digital signage player
Run proof-of-play reports
NoviSign's digital signage player app is available for free and takes only seconds to get running on your digital signage player.
We provide:
Full training and support
Phone support
Email ticketing
Template library
Free software and digital signage player updates
Check out our digital signage pricing, which is only 20.00 per month, and we provide special EDU, Government and non-profit organizations pricing.