Recently, AOpen released a new commercial Chromebox, called AOpen Commerical Chromebox 2. Version 1 is in the market since almost 4 years ago. Seems that there is a lot of anxiety around the new product.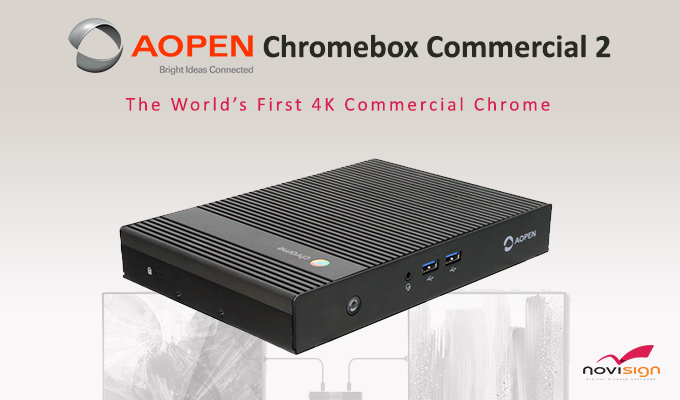 So, what is new about version 2 (compared to version 1)?
Seems that this Chromebox is the only one and the first one with 4K screen resolution in the market.
Better processor.
It has a new HDMI 2.0 port (better performance for 4K TV), which replaced the DisplayPort. So now you have 2 HDMI ports on the Chromebox.
Another USB 3.0 port was added, so now you have 3 USB 3.0 ports and 2 USB 2.0 ports (in version 1 you had 4 USB 2.0 ports).
Added remote power switch that enables the device to be powered up and down remotely (I haven't tried that yet).
Seems that there is no more SD card reader slot in version 2.
Here is the new spec:
Operating system: Chrome OS.
Processor: Intel® Celeron 3865U or Intel® Core i3-8130.
Memory: 4GB DDR3 RAM.
Storage: 16GB or 32GB SSD.
Features: 4K screen resolution, WiFi, Bluetooth 4.0, RJ45, RJ50 (commercial port with legacy serial RS232), 3 x USB 3.0, 2 x USB 2.0, HDMI 1.4 port, HDMI 2.0 port, security lock slot, headphone jack, on/off button, 2 antennas and power supply.
Retail prices: still unknown. Probably will be around 430 USD – 480 USD, like the old Chromebox Commercial (version 1).
All in all, I think this is a good improvement. Well done, AOpen!
Nir.