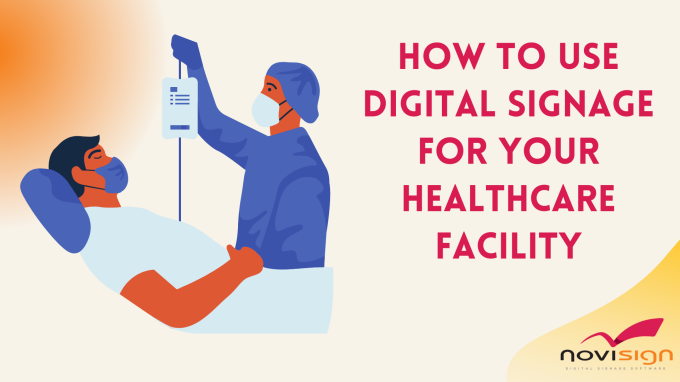 In a health care facility, caring for a patient's well-being and happiness is a top priority. Ease patient and visitor stress using digital signage for healthcare. Keep them educated and engaged with visual communications.
A digital screen in healthcare facilities is one of the biggest trends nowadays. Patients in the waiting room, visitors in the lobby, hospital staff in their stations and employees chatting during their break – all these activities are an opportunity to deliver information through digital signage.
Visitors and patients need information in the fastest and most straightforward manner possible. Digital signage allows vital information to be communicated in real-time.
Digital Signage in Waiting Areas
In any healthcare facilities people go to, they'll likely be sitting in the waiting room. Sometimes this waiting time can take longer than a few minutes. Flipping through magazines or looking at the clock can usually be frustrating.
Placing digital signage displays in waiting areas can alleviate frustration and waiting will be enjoyable for patients and those accompanying them. Posting patient queues or estimated wait times can ease waiting for uncertainty. By displaying engaging content, you may be able to lessen a patient's stress or calm their nerves from a potentially harmful situation.
The screen can display interesting news, health and wellness information, healthcare facility updates and a lot more. In specialized or more extensive facilities, data can be customized for the viewing audience or content tailored to a specific healthcare department. For instance, a waiting area for new parents can display screens showing the benefits of breast milk or information about childproofing their homes.
Plus, the advertising space can also be sold to medical specialists and pharmaceutical providers.
Share Health Programs and Events
Digital signage for healthcare does not only improve patients' and visitors' experience; it can also be used to inform people about products and services without being pushy. In addition, healthcare facilities can take this opportunity to share important information and reminders.
Information about recalls, epidemics, wellness awareness and other health-related concerns can be beneficial to everyone. However, most people don't bother if the information is posted on bulletin boards, hallways or elevator walls, as it only adds confusion.
Whether placed in waiting rooms, patient rooms, hallways, elevator walls, cafeterias or near check-in facilities, digital signs can be used to educate and communicate with everyone.
The digital screen is a beautiful avenue to promote upcoming events such as Wellness Expo, Blood Banks, Health Fairs and Charity Drives.
Emergency Alerts & Announcements
Leveraging digital signage for doctor offices and clinics can help hospital administrators and doctors communicate efficiently with their patients and visitors. Aside from visiting hours and other important announcements during a hospital stay, a digital screen can display a variety of information, including:
Physicians and hospital staffs information
Public health advisories such as flu shot reminders
Value-added services and procedures
Displays can be used to address basic first aid information, relevant government agency phone numbers and ambulance contact info. In addition, it can help increase awareness and assist people in emergencies.
Improved Communication among Healthcare Employees
Health care facilities deal with immediate care and emergencies most of the time. The best way to communicate with numerous employees easily and quickly at the same time is through digital signage.
Placing digital screens in common areas, break rooms, lounges and work areas, allows you to inform employees about office policies, time-sensitive information, updated safety procedures, new treatments being offered, training opportunities and more.
It also allows healthcare facilities to recognize outstanding staff or bring attention to their crucial team members. It can even deliver on-demand employee training.
Conclusion
Digital signage makes the promotion of wellness and enhanced quality of life more engaging. From educating patients to improving staff communication, the advantages of having digital signage in your healthcare facility are endless.
By making your facility as helpful and trustworthy as you can – which is precisely what patients want – you give patients and visitors a seamless and positive experience.
NoviSign empowers your healthcare facility to create the best experience that improves patient satisfaction, increases efficiencies and empowers hospital staff.