This page will show you how to use the Facebook social widget and broadcast Facebook pictures to your big screen using NoviSign's digital signage software.
Using Facebook:
When you drag the Facebook widget, you are required to login to your Facebook account, you need to type a public page URL and choose a layout. Page URL should be something like https://www.facebook.com/johnsmith where "johnsmith" is the name of the account/page and should be replaced accordingly. You can also type the account/page name without the prefix (i.e. type only "johnsmith" in this case).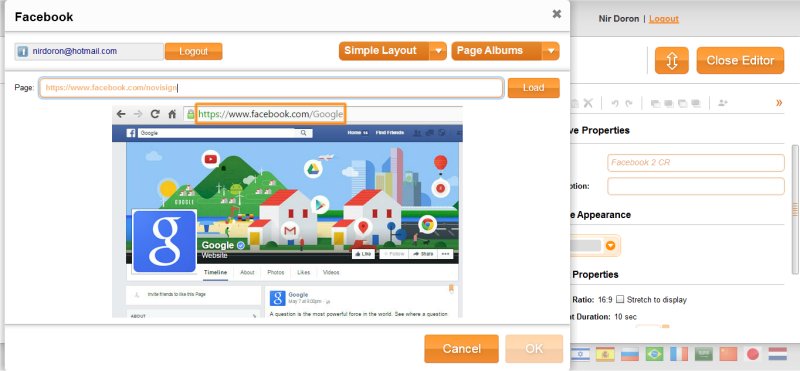 You have 2 layouts which you should choose from: simple layout and free layout. Simple layout is actually like the slideshow widget. It will show you a presentation of the pictures from your chosen page album. The free layout allows you to arrange the elements of the Facebook (the photo, the message and the date) on the screen. In order to use the free layout, double click the widget on the canvas and a panel will appear on top. You'll be able to drag elements from the panel to the widget area in the canvas and also alter their properties.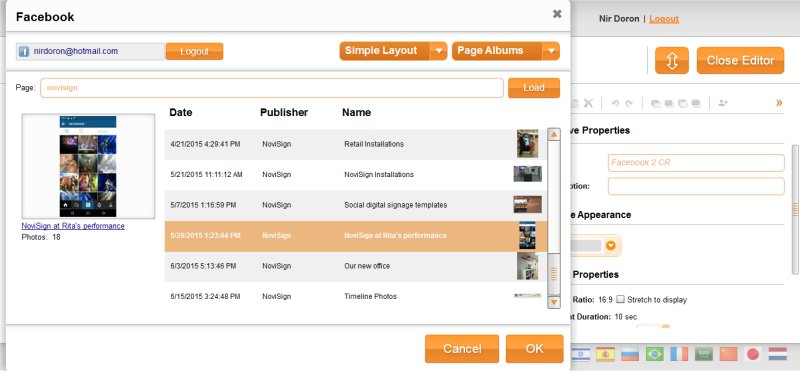 Other properties are:
Refresh – How many minutes till the app will go to Facebook and look for newer photos.
Duration – How many seconds each slide (in case of free layout) or photo (in case of simple layout) will appear on the screen.
Filter – How many photos would you like to be taken (can be recent, commented or liked) to the widget.
Here is a tutorial video, showing you step-by-step how to use the Facebook widget in a blended creative, combine it in a playlist, attach it to a player and broadcast it to the screen:

How to use the Twitter social widget?
How to use the Instagram social widget?
To get back to the social widgets page.