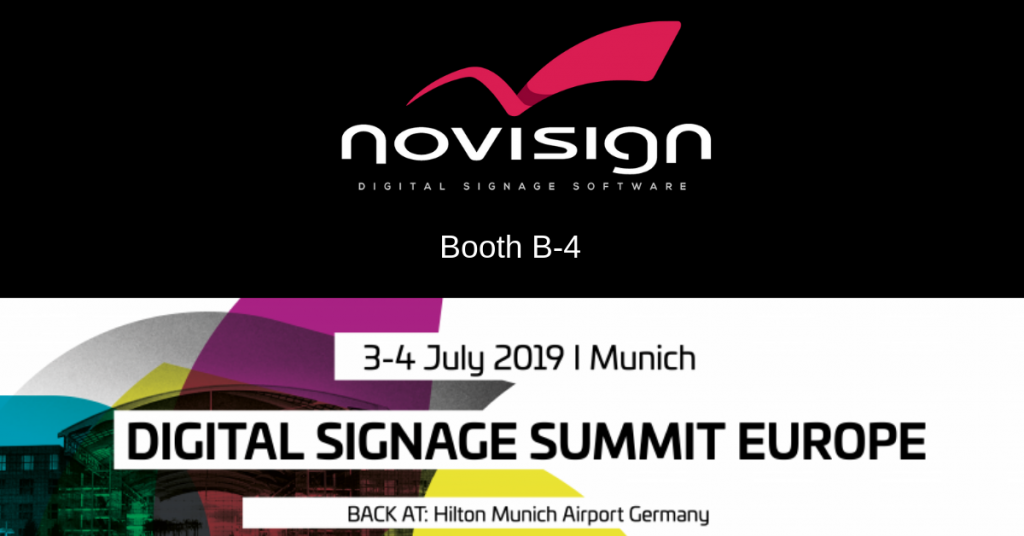 Join NoviSign at this year's Digital Signage Summit Europe July 3rd-4th, the leading strategy conference for Digital Signage of Europe. Hosted at the Hilton Munich Airport, the convention will place focus around developing best practices for creating customer-centric digital signage solutions, personalization and AI. The summit itself will feature over 50 leading manufacturers plus breakout speaking session will be offered that cover many topics related to the digital signage space.
Stop by NoviSign's booth to discover the newest in cutting edge cloud-based digital signage software. You will encounter the newest in RFID-based technologies, touch screen wayfinding solutions, Outlook Exchange Calendar Event Board Integrations and more! See live demos of the software and learn more about our white label partner program, 
About NoviSign
NoviSign has helped over 20,000 screens across 5 continents successfully deploy dynamic digital signage solutions. Some of NoviSign clients include Disney, Ikea, Dole, Home Depot, NASA, Nokia, Ferrari, Papa John's Pizza and more!
Using NoviSign's comprehensive web-based digital signage software online Studio, you can create beautiful digital signage. With over +20 drag-and-drop widgets to choose from, you can quickly design and manage engaging content that features live social media streams, data-driven polls, fun interactive games and media-rich zones that feature videos, RSS feeds, HD images, scrolling text, weather and more!
NoviSign's Digital Signage Software is sold as Software as a Service (SaaS) that enables the easy management of dynamic digital signage campaigns, from the cloud to IP-based digital signs anywhere in the world. From any PC, you can broadcast targeted messages to any number of signs, at an unlimited number of locations in real-time.
NoviSign is a privately held digital signage software company based outside of Tel-Aviv, Israel, with field sales offices in Portugal, Japan and the United States.