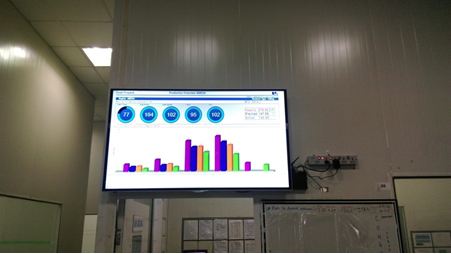 By adding digital signage for manufacturing to your factory floor, you will be able to easily and quickly improve the way you communicate with your employees. Manufacturing floor digital signage allows you to share production line information, productivity charts, days without accidents and more! When using digital signage for factories, you will be able to:
Stream real-time live updates and notifications
Display excel, charts, XML and web URLs
Share daily, weekly, or monthly production metrics
Employee news and training videos
Safety protocols and instructions
KPI reports and slideshows
Increase efficiency
Use digital signage for manufacturing facilities to share daily information that is vital to your production lines. From any computer, at any time you can make instant changes to your manufacturing floors digital signs. Easily and quickly add new PowerPoint slides, custom scrolling text notifications, HD videos, daily task messages and more.
Update one screen at a time or all screens within one click
All information caches locally onto the media player/display
Pre-schedule updates, set expiration dates and recurring schedules
Remotely monitor the screens status and health
A better way to communicate
Digital signage for manufacturing facilities can be used across many areas of your manufacturing facility. Your lobby, factory floor, break rooms and outside of conference rooms are all areas in which factory digital signage can be used.
Because digital signage for manufacturing facilities can be changed on the fly this form of visual communications bridges the gap for internal communications. With digital signage for manufacturing facilities you will be able to:
Display emergency alerts, weather updates and news
Share required meetings times and scheduled event listings
List important corporate updates and communications
Recognize standout employees, birthdays and work anniversaries
Getting started with digital signage for manufacturing
Start with identifying high traffic locations within your facility in which employees spend time and areas they work. The area must have a site in which you can mount a factory floor digital sign. Keep in mind that the manufacturing digital signs must be easily visible to employees. Once you have you location picked out you will need to source the following components for manufacturing facility digital signage:
TV or Commercial Grade Digital Sign

A commercial grade screen is rated for 50,000 hours of commercial use
Come with metal encasing that withstands commercial environments
Features tempered glass that resists impact
A regular TV can be used also but it does not include commercial features
Cloud Digital Signage Software

Create and manage the manufacturing facility digital signs
Make on-the-fly edits to content
Schedule playlists and monitor the screens
Digital signage software for manufacturing facilities
NoviSign digital signage for manufacturing is an efficient and quick way to broadcast your manufacturing notifications, statistics, news, updates, videos, and other information. Using NoviSigns cloud-based digital signage software, you will be able to control and update all of the factories digital signage. With over 20,000 screens deployed globally across 5 continents, NoviSign offers a reliable and easy-to-use the platform.
No setup fees or expensive annual maintenance fees
Drag-and-drop widgets and apps for easy content creation
Includes complete library of customizable templates
Full training, videos, and support is included
Pricing starts at $20 per month / per screen
Volume discounts and promotional pricing available