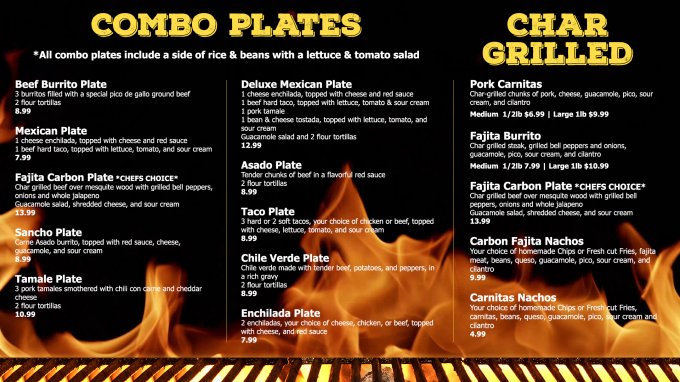 Mexican Restaurant Digital Menu Boards bring a new level of flexibility and impactfulness, when it comes to displaying your menu. Using Digital Menu Boards for Mexican Restaurants, you can easily display your menu items, prices, descriptions, prices, food images and other media. You can use any TV to get started and only need a computer to set up your menu layout.
Advantages of Mexican Restaurant Digital Menu Boards:
Set up the digital menu board layout in any design; three columns, two columns, a slideshow of specials and more!
Easily make edits from your laptop or computer
All changes you make will wirelessly update on the TVs within minutes
Preschedule specials, lunch and dinner menus to play on exact times and dates
Do I need special TVs to setup my Mexican Restaurant Digital Menu Boards?
No, you don't need commercial-grade TVs or Smart TVs. You can use any brand TV. When it comes to size, we suggest going with 43″ and up. Aside from a TV, you will need a media player. That connects to the TV via HDMI and WiFi. Once joined, it will download and play your Mexican restaurant digital menu board content.
What is the number of TVs I need to display my menu?
If you want only to display a text menu, go with no more then 25 – 30 items per TV. If you go over 30 items, your digital menu board for Mexican Restaurant will start to get crowded and hard to read.
When it comes to incorporating images and videos into your Mexican Restaurant menu board, go with no more then 20 items per menu. This will give you space to include your media.
How do I start designing my Mexican Restaurant digital menu board template?
To get your menu set-up, you will need NoviSign's Mexican Restaurant Digital Menu Board software. Using the software, you will be able to easily input your menu items, add media slide shows, scrolling specials tickers and more! Also, included with NoviSign is an entire library of customizing digital menu board templates that you can choose from and customize.
How much do Mexican Restaurant Digital Menu Boards Cost?
For quick pricing reference, you can get started all for under $500. That price includes a TV and a media player. You can technically stop at your local Wal-Mart or BestBuy and grab the cheapest sale TV.
How do I get started?
The most important and most overlooked part is getting your Mexican restaurant digital menu board designed. To get the ball moving, you can sign-up for NoviSign's free 30-day trial and begin setting up your Mexican Restaurant Menu today!
If you have more questions, call us anytime: (646) 893-7770 opt two or email us: info@novisign.com.
Related Articles: