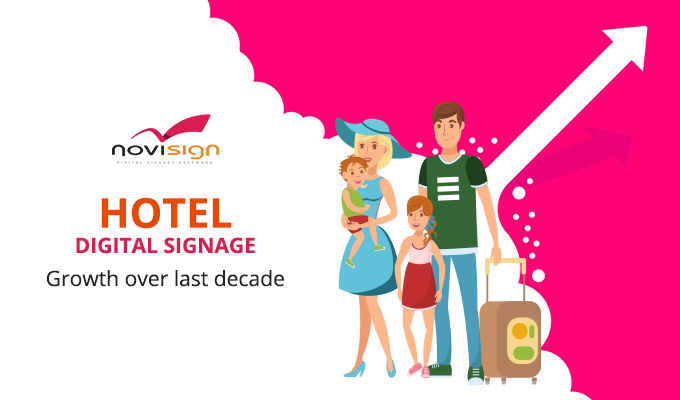 Every day hotels aim to deliver superior guest experiences. Good guest experiences are what drives repeat business and free word of mouth advertising, Digital Signage for hotels can help you show guests that you're focused on their needs. It reaches more people with the most current information and costs almost nothing to manage.
Digital signage for hotels grabs attention with motion, reduces perceived check-in times and gives you the perfect communications tool to engage and entertain your guests. You can use hotel digital signage to show announcements, videos and auto-updating content like news, weather, events schedules and social media feeds.
Where can you use hotel digital signage?
Hotel digital signs can be mounted anywhere and you can show more messages more often. From adding a touch screen concierge in your lobby to informational screens across high traffic locations, you can use hotel digital signage to reach your customers with vital information. As a hotel, you can manage communications centrally under one brand.
Time-Triggered Content Updates
Target when and where to reach different groups and promote onsite services to increase revenues for your hotels. You can improve the guest experience and customer satisfaction by providing easy access to wayfinding maps and facility information.
And in case of an emergency, you can instantly override playlists on a single screen or screens throughout your property with an alert showing the nature of the crisis and giving clear safety instructions.
Upsell On-Premise Services
Use digital signage for hotels to unite your public spaces and offices with universal, consistent messaging, specials and announcements. Advertise restaurants bars, digitally display your menus and loyalty programs. Add show events schedules outside meeting spaces.
Use touch screen concierge displays to give your guests a self-service option and frees your staff up to provide more personal attention. Show wayfinding information, property highlights, local attractions, concierge services, and more all on one hotel digital sign.
Customizable Hotel Digital Signage Templates
You can create ready to use branded templates that can be easily updated on-the-fly, so your staff can create good looking messages in just seconds. Using drag-and-drop widgets, you can quickly add slideshows, scrolling text, live news feeds, weather forecasts, area attraction maps, videos and more!
Social Media Feeds
Incorporate real-time Facebook, Instagram and Twitter feeds to your screen's content. Set the feeds to pull directly from your account or even display specific hashtags. As content is posted to social media accounts, it will auto-update on the hotel digital signs. This is a great way to keep your screens fresh!
About NoviSign
Our hotel digital signage software is powerful, flexible and user-friendly, so you can better engage with guests and staff quickly and easily. Our free training and support professionals are here to make sure you always look great.
Contact us for a demo or quote today!