HOW DO I GET STARTED QUESTIONS
1. How do I get everything setup and running?
Follow these 5 steps:
Sign-up for a free 30-day trial of NoviSign
Purchase a media player (NoviSign runs on Chrome, Windows or Android digital signage media players)
Connect the media player to the TV
Install the NoviSign app onto the media player
Log-in to your NoviSign account
2. What kind of TV can I use?
You can use any TV (commercial or regular).
3. What kind of digital signage media player should I use?
If you are looking for a cost-effective yet reliable media player check out this one for $99:
SOFTWARE QUESTIONS
1. How do I create content with NoviSign?
After creating a free NoviSign account then log in to your account: http://app.novisign.com/studio.
Click here to view detailed guide
If you have questions or need assistance please contact us.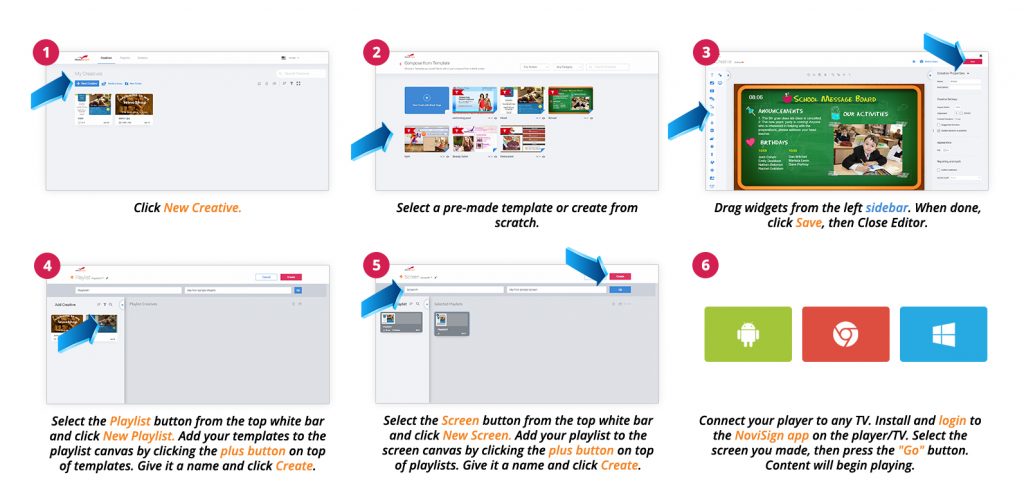 2. Can I create playlists and schedule my content to play with NoviSign?
Yes, you can with NoviSign. Add an unlimited number of templates (you can design your own, too) to your playlist. You can pre-schedule your templates to play on specific dates and times, set recurring schedules and more. Learn more.
3. Can I remotely monitor my screens status?
Yes, you can with NoviSign. Using the reports and monitoring dashboard you can quickly view all of your screens, what is playing on them when they were updated last and more. Learn more.
4. What apps and widgets are included with NoviSign?
With NoviSign over 20+ drag-and-drop widgets are all included with the standard monthly price. No technical setup IT background is needed to use the widgets. Learn more.
Popular widgets include:
RSS feeds; CNN, ESPN, Reuters, BBC and more!
Media slideshows; videos, images, text, weather, and scrolling feeds
Social media widgets; Twitter, Facebook and Instagram
Live streams; YouTube and Ustream
Google; slides, documents and spreadsheets
Touchscreen; interactive kiosks
Websites; integrate URLs and web images
Custom Tickers; scrolling text feeds
Weather; forecasts and conditions
5. What file formats does NoviSign support?
From your desktop upload images, slides, videos and other media to the library. All media will be saved in the cloud and accessible anytime.
Supported files include:
PowerPoint: PPT, PPTX, PPS, PPSX
Google: slideshow, spreadsheet
Word: DOC, DOCX, ODT, DJVU, RTF, and PS
Spreadsheet: XLS, XLSX and ODS
Images: JPG, JPEG, PNG and GIF
Audio: M4A
Videos: MP4
6. What is included with the free 30-day trial account of NoviSign?
Get everything you need for designing rich digital signage content, combining images, news tickers, scrolling announcements, videos, slideshows and advanced social widgets (Facebook, Instagram, Twitter and many more).  Sign up here.
1 free NoviSign software license for 30-days
Online design Studio with drag-and-drop widgets
Library of customizable templates
Create scheduling and playlists
Free training and support included

No required commitment, no credit card
7. Can I set up multiple user accounts?
Users can be created by location name or by an actual user name (better have it as a real email address). The screens for that location would be in each user account. For multiple location projects many customer setup users by location name.
8. Can I control what each user has access to or can update?
Below are the two most popular ways to set up users for content management with NoviSign. With either option, you will be able to access the user account to oversee / monitor.
You can also share specific sections of a template with the user. The sections that you share will be the only parts of the template that the user can edit.
PRICING & SUPPORT QUESTIONS
1. What kind of support is included with NoviSign?
It's simple. When you have questions, you need answers. From promptly returning emails to picking up the phone and calling you we make sure that your questions are answered.
Free Assistance: we're available anytime to help you
Easy To Contact: phone, email, or social media
Help Center: simple online guides and materials
Quick Start: online easy-to-use the resource center
Email Help Desk: 24/7 email ticking
Webinars: Free online demos and training
2. How much does NoviSign cost?
NoviSign's pricing is $20 per screen/media player.  Pricing is month to month.
Annual Discount: prepay 12-months and receive discounts starting at 10%-25% depending on the total number of screens
Education & Non-Profit: 25% discount to education, government and nonprofits
Volume Discounts: receive exceptional prices at 5 screens or more
No Hidden Fees: we don't have setup charges or hidden fees
No Contracts: cancel any time with our monthly subscription
Payment Methods: Credit Card, PayPal, Invoices, and POs
MEDIA PLAYER & HARDWARE QUESTIONS
1. What media players does NoviSign run on?
NoviSign can be run on Android, Chrome OS and Windows media players.
2. What kind of Android Media Player should I use?
We recommend the Geniatech APC390R. That unit is approved by NoviSign and comes with a special firmware that is optimized to run NoviSign. Pricing for that is $119.00. You can also find other good Android TV boxes and dongles which we have tested and approved in our Android recommended hardware page.
If you are looking for a cost-effective Android Media player check out the AX9 Android Player. We have not officially approved this model but have been told by dozens of customers that that player is reliable and works very well. Pricing for that is $43.00.
3. Can NoviSign run on Android TVs?
Yes, you can download the Android NoviSign app onto any Android TV.
4. How do I set up the Android Media Player?
Open the Play Store and search for and download "NoviSign Digital "
Install and log in to your NoviSign account
Select your screen and hit the "Go" button
5. Does NoviSign run on the Amazon FireStick?
We have not approved this model, but you can sideload the NoviSign Android app onto the FireStick. To do this, you would have to download our Android APK and install onto the FiretStick. Since the FireStick is a non-commercial grade device, we do warn customers that you could see potentially encounter reliability issues.
6. What kind of Chrome device should I use?
The two most popular Chrome OS digital signage player are the Chromebit and Chromebox.
For running basic signage, the ChromeBit works ok but can be a bit sluggish when playing media, videos or displaying web feeds. Here is a setup guide for the Chromebit.
If you want a smoother running player, the Chromebox works well. Here is a setup guide for the Chromebox.