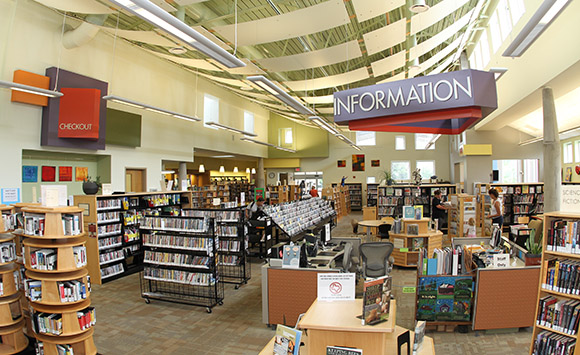 Digital signage for public libraries enables you to display any combination widgets, information, announcements, community events schedules, book recommendations, program schedules and more. From any computer or laptop you will be able to remotely create, edit and update your libraries digital signage. All of your library digital signs will update within 2 minutes. Using cloud-based digital signage for libraries you will be able to display:
Daily, weekly, or monthly class and special event listing with images
Welcome messages and important library announcements
Wayfinding maps of the library and where book sections are located
Emergency notifications and alert messages
Library hours of operation and list of locations
Local weather forecasts and live RSS news feeds
Media slideshows contains videos, images, slides and text
Add social media feed like Twitter, Instagram or Facebook to drive social engagement
Touch screen displays and kiosks with multiple buttons and pages of information
9 Ways You Can Use Library Digital Signage
Because library digital signage is 'digital' you can share an unlimited amount of useful information that will improve your visitors experiences. If your new to digital signage check out our post "what is digital signage?"
Library FAQ
Local transportation and parking information
New DVD and music arrivals
Weekly top 5 most popular books
Computer terminal availability
Top authors with biography and popular books
Area listing of local businesses
Book check-out and return guidelines
Showcase library services
Advantages of Library Digital Signage
Digital signage for public libraries is modern and engaging way to communicate with your visitors. Because the content is "dynamic" you can add eye-catching videos, custom scrolling tickers of information, slideshow shows, calendar and more!
By installing library digital signage screen in high traffic locations you will be able to consistently reach your visitors with important information and updates. An example would be your lobby area. You can share general information about your library, showcase new books that recently arrived, advertise the advantages of getting a library card and more!
Save money on printing new signs
Display an unlimited amount of information, media and announcements
Preschedule slides and playlists to play on specific times and dates
Update one screen at a time or groups of screens within one click
Remotely monitor the library digital signs
First, identify where you would like to use library digital signage.  Once you have the locations you will need to gather the following items for your libraries digital signage:
Cloud-Based Digital Signage Software

Design, edit and and manage your library digital signage messages
Create the content from scratch or use customizable templates
Setup your playlist and schedule you content to play
TV or Commercial Grade Digital Sign

A digital sign is rated for 50,000 hours of commercial use, comes with a metal encasing and features tempered glass
A regular TV can also be used, but it does not include commercial features
NoviSign provides libraries with a cloud based library digital signage software.  Within minutes of making a change on your computer the new updates will go live of your libraries digital signage!  All content caches locally on the media player and will continue playing with an internet outage.
Using the widgets and apps, you can easily add and customize media slideshows, HD videos, custom scrolling tickers and more! If you have monthly or weekly new promotions pre-schedule your advertisements to play on specific dates, set expiration dates, or recurring schedule.
Best variety of drag and drop widgets
Customizable template library
YouTube and Ustream live videos
Create and manage new playlists
Manage a single display or hundreds
Admin controls with multi-user control
Cloud media library for storing your media
Real-time content updates
Complete training and support