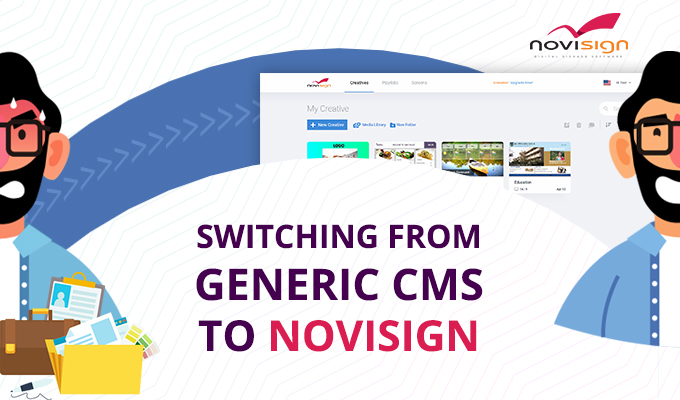 In crowded space of digital signage software companies with fancy websites and well-written marketing mumbo jumbo finding the right digital signage content management system can be a challenge. If you're new to bdigital signage and looking to better understand what digital signage is and how it works check our "Quick Start Guide To Digital Signage".
About NoviSign
At NoviSign we offer a no-nonsense straightforward approach towards cloud-based digital signage software. We have over 20,000 digital signage screens that are using NoviSign to create, edit and manage the content of the digital signs. We've worked with Fortune 500 brands all small businesses.
Disney, Hilton, Papa Johns Pizza, WIX, Philips Morris and Coca Cola are just some of the brands using NoviSign to manage their digital signage. If you're looking to purchase digital signage, check out our presale article on common customer digital signage questions.
Let's now look at the top 10 reasons why organizations switch to NoviSign…
1. Stability and reliability
Having a digital signage system that is always up and running is one of the most important and often overlooked aspects of digital signage. At NoviSign, we were one of the first digital signage software companies that developed and released Android and Chrome OS versions of our software.
Because of this we've experienced the challenges and have diligently worked through them. Today we have a digital signage system that supports off-line play and a stable app that is bug-free. This allows for smooth media playback and a digital signage player app that doesn't freeze or crash.
2. Straight forward
Yeah, you've probably heard about easy-to-use digital signage software from other companies or signed up for evaluation trials but encountered watered down hard to use digital signage platforms. All too often many companies make the installation process hard and clunky and force you to purchase overpriced "certified" equipment.
Founded by software engineers in Tel Aviv, Israel in 2011, NoviSign's mission was to remove the complexity from digital signage. This means no complicated servers, no overpriced media players and no setup fees. With NoviSign, all that you need is an Android, Windows, or Chrome digital signage media player and an internet browser. If you're in the IT space check and looking for IT related information check our article "4 Most Common IT Department Questions".
3. Strongest variety of specialized digital signage templates
When it comes to digital signage content is king. This means having a nicely designed layout that creatively displays the media and information you're looking to broadcast in a manner that is clean and engaging.
At NoviSign, we have over 200+ professionally designed customizable digital signage templates. You can find digital menu boards, corporate communications, healthcare, hotels, digital directories, employee communications, retail, advertising, and more! All of the digital signage templates are fully customizable and allow you to completely edit and adjust the layout to fit your exact needs and requirements.
4. Easiest-to-use design studio
How many times have you been told: "our digital signage software is so easy-to-use and includes so many apps?" Well, the truth is companies lie. Many of these "apps" require 3rd party subscriptions and when it comes to the ability for customization of how the app looks…good luck. Let's be honest you probably don't have two hours to sit and learn how to use new digital signage software.
At NoviSign our design studio for digital signage content is like PowerPoint on steroids. We call our "apps" widgets. To add a widget it is a simple click, drop and drop onto the canvas. Once added, you can completely customize the exact look and feel of how it looks, the size and where it is displayed. Slideshows, scrolling tickers, weather, clock, images, text, RSS feeds, YouTube, Facebook, Instagram, Twitter, websites, countdown timers, interactive polls, Google Slide and more.
5. Best media player options
Historically, overpriced Windows-based media players were the only operating system used and available for digital signage. Pricing for these systems were around $650 each and the overall setup was complicated and hard to do. With the development of Android, Chrome and System on Chip (SoC) display, the initial start-up hardware costs have dropped by 75%.
With NoviSign, you can use any Windows, Android and ChromeOS digital signage media player. The NoviSign app is available for free download on the Chrome Marketplace and Android's Google Play Store.
6. Smart TVs and System On Chip Displays (SoC)
With the evolution of TVs and Android the birth of "smart TVs" has arrived. A smart TV is a display that comes with a built-in Android system. Since NoviSign runs on Android you can install NoviSign on to any TV that has Android built-in. This eliminates the need of having to purchase an external media player.
In the commercial space companies like Philips, SHARP and ViewSonic offer commercial grade displays that come with built Android System On Chips boards.
7. Remote Monitoring and Proof-of-Play Reports
What's the point of having a digital signage system if you cannot monitor the status of your screens or know what content each screen is playing? With an entire reports dashboard is included that allows you to easily view the status of all your players and screens, see who made the last update and view the playlist name that is assigned to each player.
If you have an advertising network or need to run proof-of-play reports you run detailed media performance reports that offer valuable insight on all media played, the total number of times it was played, total play time and more!
8. Total Support
In the world of digital signage, there are two types of companies: super expensive with world-class support and low-cost companies that take days upon days to get back to you with support.
At NoviSign we've kept it simple. With every software license, you will receive total support and training. We don't charge training fees or require annual support contracts. We offer complete Monday through Friday 8AM-5PM CST phone support and 24/7 email support. In addition, we offer a complete library of training videos, and FAQ.
9. Custom Content Design and Setup
Because the average user doesn't have graphic experience we offer professional content design and setup services. The pricing is flat-rate and allows you to receive a beautifully designed template that creatively incorporates your branding, colors and overall theme.
This service is optional and a one time charge. Our pricing is affordable and best of all you have full control over the template once it's built. Our custom digital signage content design is ideal for organizations that are looking to deploy a digital signage system that is visually engaging and effective.
10. Outlook Calendar Digital Signage for Schedules and Meetings
If you're looking to share your organization's list of daily, weekly or upcoming meetings, schedules and meetings you can use NoviSign to seamlessly display your schedule. This eliminates the need of anyone having to manually update the event listings. With NoviSign, it's automatic.
The Outlook Calendar Digital Signage integration would be set to directly pull from your calendar so when you add, edit, or remove events, the listings on the digital sign will automatically update. Best of all with NoviSign, the schedules layout can be completely customized to have the exact look and feel of your brand. You're not locked down to the style of how it displays.
11. IoT Digital Signage
Aside from traditional digital signage, NoviSign integrates with 3rd party hardware configurations that support "internet of things". IoT digital signage is the connection of external hardware components that can be used to trigger real-time updates and notifications on the screen. Barcodes scanners, RFID sensors and facial recognition are all items that can be used with NoviSign.
From using IoT in retail to trigger information on screens to display about a product to using employee badges to send personalized notifications to employees, you can use IoT digital signage to create experiential driven interactions with the public that engage and inform.
12. Touch Screen Digital Signage
Another really cool widget that is included is touch screen. This widget allows you to create interactive touch screen layouts that contain multiple buttons of interactive content. You don't need coding or HTML5 to program the content.
13. Wayfinding Digital Signage
Using NoviSign's touch screen widget you can create wayfinding digital signage solutions. You can create interactive digital directories that provide turn by turn directions to destinations both on and off premise. You can also add interactive buttons that take you to additional information about your organization, spotlight amenities, list daily event schedules, corporate announcements and more!
14. Free Standing Digital Signage Kiosks
Digital signage doesn't just have to be displayed on just displays. Freestanding digital kiosks are great for public-facing applications that need an eye-grabbing display that attracts attention so information is seen.
With NoviSign, you can create content in portrait orientations and remotely manage the digital kiosks content. Best of all NoviSign's digital signage software comes preloaded on United Visual Products line of commercial grade kiosks. This eliminates the need for external media player allowing for quick and easy installations!
Conclusion
At NoviSign we believe in stability and ease of use. Because of this belief, we have developed one of the worlds most powerful digital signage software solutions. Try it out today free for 30-days. No credit card needed.