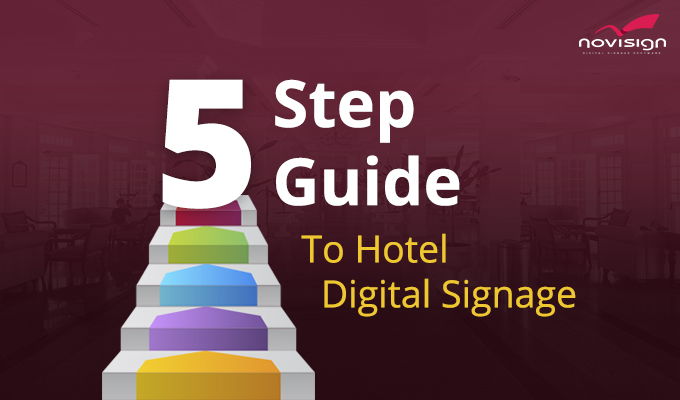 Since your here, you already recognize the benefits of hotel digital signage and are now looking for a reliable hotel signage solution that will allow you to improve guests communication! If you're looking for way's to use digital signage for hotels check out this quick read that covers top application examples.
Because hotel digital signage can be confusing and contains many moving components we've outlined a nice guide that outlines a nice road-map for getting started with hotel digital signage.
How To Get Started With Hotel Digital Signage
Identify where you want the hotel digital signs
Outline high-traffic locations of your property that guests pass through. This could be your lobby and check-in area, outside of event venue locations, or perhaps the pool area. Because your guests frequently spend time in these areas you can install hotel digital signage to reach them with your communications.
Choose your displays
Commercial grade digital signs are always the preferred option for digital signage. Commercial grade digital signs are rated for 50,000 hours of usage, feature aluminum encasing, tempered glass, and many times do not have external power/volume buttons.
Now if you're on a budget, regular TVs would work fine for your hotel digital signage but keep in mind they may need replacing around every 2 years or so.
Regarding size, we always recommend something in the range of 46"- 55". This allows for your content to be easily seen plus gives you enough space to design accordingly so all media has the proper spacing.
Choose your media players
A digital signage player connects to the display via HDMI. On the player is the hotel digital signage software that downloads and plays your content. If you have an existing Android, Chrome OS or Windows player you can use that with NoviSign.
If you need to purchase a player we recommend going with Android. These players are cost-effective, powerful, and if the right one is purchased highly reliable.
Outline what you want to display on the hotel digital signage
Based on the locations you selected to install the signs create a list of what's important to the guests that will be in the area of that specific sign. For example; the sign that will be in your hotel lobby area. For this hotel digital sign, you could feature check-in information, spotlight specific amenities, feature a top 10 list of local attractions and featured new dishes from your on-premise restaurant.
This kind of information is important to new guests and they will find value in viewing content. Always look at it from the eye's of your guests. What information would they be looking for?
Choose a vendor for your hotel digital signage software
Using NoviSign's cloud-based digital signage for hotels you will be able to easily and quickly design and manage the perfect content for your hotel digital signage! Pricing is a simple $20 per month per screen and you can use any Android, Chrome, and Windows media player.
With NoviSign you can:
Create your content from scratch or customize one of our include hotel digital signage templates

Incorporate media rich slideshow's of images, videos, text, and other widgets

Add real-time event feeds that are pulling from your Outlook or Google calendar

Spotlight your properties amenities, accommodations and hotel overview

Feature area attractions with maps and airport shuttle times

Offer property

wayfinding maps

with turn by turn directions

Create

digital menu boards

for your on-premise restaurant/bar
Conclusion
We get it. Hotel digital signage can be confusing. At NoviSign we take a consultative approach towards creating solutions. From helping you figure out what media player to use to answering general questions we are here to help you.
If you'd like to learn more or perhaps schedule a demo send us an email anytime! We are looking forward to hearing from you: info@novisign.com.