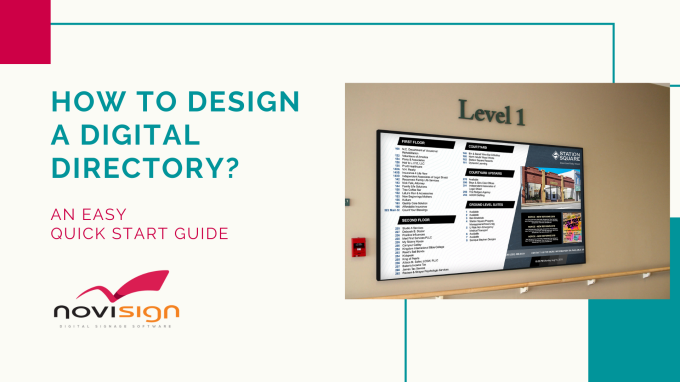 From enhancing your building lobbies' appearance to streamlining the way you share and provide wayfinding directions, digital directories offer you maximum versatility when managing your lobby's digital directory. Several design possibilities are available when you are planning your digital directory.
To help you on your design path, we have compiled some design principles. By using these design standards, you will be able to address the specific demands of your customers and visitors with your digital directory.
1. Simple and Easy to Read
On the surface, this might seem like common knowledge, yet legibility is essential in any digital directory. Getting everything to fit together while creating the digital directory might be a challenge, but the letter sizes must be large enough to be legible from a distance. Likewise, directing the user's attention with huge, bold writing at the top of the screen.
The display size and font options must be sufficient for viewing from just a few feet away. Using a sans-serif typeface (that is, a font that does not have serifs) is encouraged. Depending on the size of the display, using a font at least 20 points and larger is advised. Do keep in mind that some people are not as physically able as you are.
2. Consistency between layout design and visual aesthetics
Ensuring that white space on the screen still helps with directory listings not being too cluttered is recommended. Additionally, typeface, images, different colors, and sizes should be used sparingly in only the portions you want to draw attention to. If the listings are not filled, it is advantageous to the reader.
3. High-Quality Images
Make sure that your digital directory images are suitable and eye-catching is vital when applying them. For example, if you want to include your building in the layout, consider utilizing a professionally taken image that nicely depicts your building features and landscaping. When looking for photographs to use, please make sure you have permission to use the pictures your organization has selected.
4. Branding
It is essential to synchronize your building's identity with the digital directory design. Your font styles, logos, and colors should all be used with your digital lobby directory design. While various firms may be engaged, you should opt for a more professional appearance and use standard colors.
5. Laying out the directory
The organization of your digital directories listings should have a consistent format to enable users to identify a given listing quickly. Alternatively, categorize it by subject or use an alphabetical or category listing. Organizing in this manner leads to alphabetization within each group. Font size and color should be different in each sub-listing category. This will help to make the process of reviewing easier.
Conclusion
Knowing your design strategy will help ensure that you stay on target with your overall digital directory goals. Although numerous alternatives exist, the basic concept should be maintained throughout the design.
When maintenance comes up, it is easy to change the design, and there are no costs. However, since a lot of effort is spent on design at the initial upload, it is essential to focus on innovation throughout the project.
Danielle.