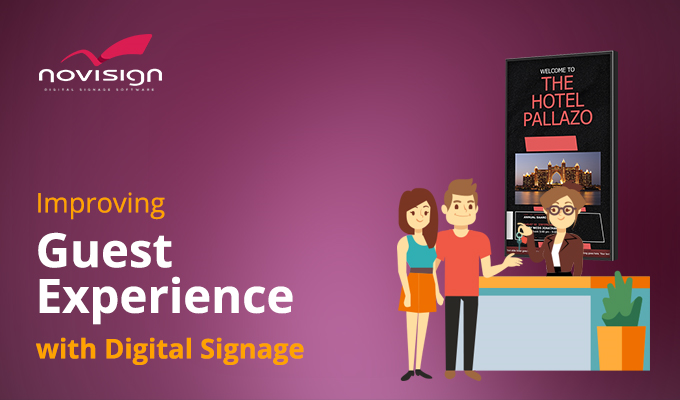 Upgrade your guest's experience using digital signage for hotels. Add informative and engaging guest-centric notifications, custom welcome messages and other engaging information about your property. With hotel digital signage your front desk and upper management team will be able to update easily and publish new content quickly, efficiently and effortlessly.
Improve Guest Communications
Streamline your ability to communicate and connect with guests by adding hotel digital signage to your lobby and entrance areas, outside of event rooms and other high traffic areas of your hotel. Using hotel digital signage, you can:
Showcase key property amenities
Show-off awards and customer testimonials
Upsell special guest services and rooms
Promote bar and restaurant dining deals 
Groups, Events and Weddings
Add room boards to display event schedules to provide your guests with easy access to event itineraries and information.
Add scrolling event listings with directional arrows
List meeting times, room numbers and event itinerary
Welcome groups with a custom greeting
Showcase venue facilities for event hosting
Information Boards
Because hotel digital signage is "digital", you can display any combination of media zones. From displaying real-time news feeds to valuable notifications about your property you can use hotel digital signage as your silent concierge system.  
Multimedia Presentations: use digital signage for hotels to display vivid HD videos, images, slideshows and commercials about your properties brand.
Accommodations: Upsell services while emphasizing why your brand and hotel is better by showcasing your unique value proposition
Amenities: Display pool hours of operation, on-premise restaurant menu and specials, fitness and business center hours and more
Meeting & Events: Add custom event welcome messages, daily schedules, meeting times, and add wayfinding maps
Local Allures: Incorporate area attractions maps that feature shopping maps, popular neighborhood dining options and other area point of interests
Guest Related Information: Display guest reviews, property highlights, guest promotions and guest-experience driven announcements
Wayfinding Displays
Aside from using hotel digital signage to display guest related information you can use digital signage for hotels to provide wayfinding directions around your property. From static lobby digital directories that offer general by the floor mapping to full-blown touch screen wayfinding digital signage, you can use interactive wayfinding displays to create an immersive experience.
Add turn by turn interactive maps that guide guests to facility locations
Incorporate touch screen buttons that display on-premise restaurant menus
List interactive maps of area attractions, shopping centers and entertainment options
Total Hotel Digital Signage Solutions
NoviSign's Digital Signage for Hotels is easiest and most effective solution for improving the way you share information and communicate with your guests. All from your computer, make on the fly updates to content and wirelessly send out updates.
No setup fees or required maintenance contracts
Cloud-based and comes with over 20+ drag-and-drop widgets
All content caches and play if your network is down
Remote monitoring and advanced scheduling
Full training and support is included