In the marketing and more specifically in the traditional signage market we are all familiar with the Sandwich Boards, or as some call them Sidewalk Signs, or A-Frame Signs. Eventually, it is mobile signs that the business owner puts outside the venue, to spread his message to the bystanders and sidewalk users, in order to capture their attention and promote his business.
These signs are recently in the Corona "Days" are becoming more and more valuable, mainly because and this is an ongoing trend that accelerated recently, they are being transformed into Digital Signage sandwich boards! Actually, there seems to be no sense anymore to have these sandwich boards, dragged out everyday just to keep conveying the same message. It is clear to every business owner at any size that yesterday's message might be irrelevant and today's might not fit tomorrow's, or even for this afternoon.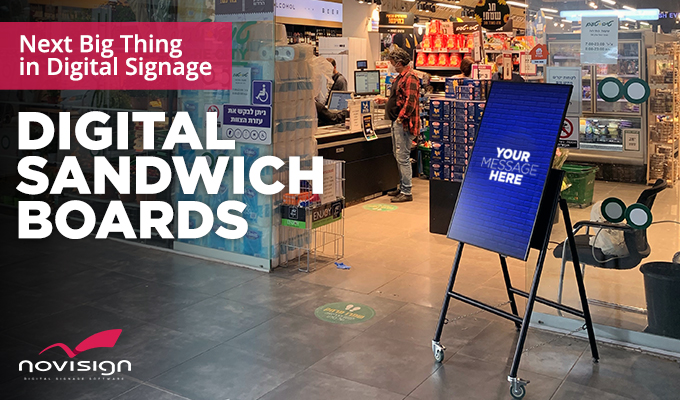 The digitization of the A-Frame / sandwich board / street signs is not a surprise, but we are surprised by the clear acceleration caused by the Covid-19 effect! The Sandwich boards are not only for communicating with customers, but also as a dynamic gatekeeper that forces, politely but firmly the rules that we all need to apply of the physical distancing of the regulations around the number of people allowed in a business.
The digital signage sandwich boards are usually equipped with internal Android player, network connection, battery-powered, 700 NITS and Full HD display. These digital sidewalk signs can run a modern, effective and rich digital signage content and using powerful digital signage software such as NoviSign, makes it very easy to build, manage and display any content, including the implementation of recently developed features to support the CoronaVirus restrictions!
Sandwich boards are now moving to Digital, don't walk by and miss it!
Efrat.