When it comes to displaying your menu digitally, Jamaican Restaurant Digital Menu Boards are among the most effective and accessible forms of getting your menus seen. Digital menu boards for Jamaican restaurants are used to display your menu items, descriptions, prices, specials, food and images.
Benefits of Jamaican Restaurant Menu Boards include:
Remotely update your menu from any computer at anytime
Preschedule your specials to auto-update on the TVs
Incorporate media slideshows of your highest margin foods items
Make on-the-fly changes to your menu without having to print anything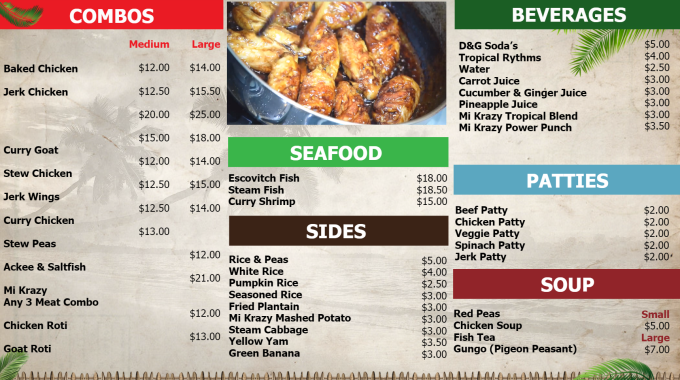 How does Jamaican Restaurant Digital menu boards work?
For screens, you can use any brand TV. It doesn't matter if it is smart or regular TV. From a sizing standpoint, we recommend 43″ and up. Connected to the TV will be a media player. These are 4″ x 4″ x 1″ boxes that connect to TVs via HDMI. They will download your Jamaican Restaurant digital menu board from the internet and play it on the screen.
How many TV's will I need to use to set-up, my digital menu board?
Regarding the number of items that you can put on your Jamaican Restaurant Digital Menu Boards, we suggest going with no more than 25 – 30 items per TV. Anything over 30 will start to get your digital menu board looking crowded and hard to read.
If you are looking to incorporate images of your food, we suggest adding no more then 15 – 20 items. This will allow space to add your pictures.
How do I create my Jamaican Restaurant Digital Menu Board Layout?
To create your menu layout, you need a computer and digital signage software. Using NoviSign's cloud-based Digital menu board for Jamaican Restaurant Software, you can design and setup your digital menu board. We have a complete library of professionally designed digital menu board templates that you can choose from, and then customize. You will quickly change the text, colors, insert images and other forms of media.
How much does it cost?
You can get a 50″ TV and media player purchased for under $400. If you have an existing TV, you can use it. Aside from the hardware, you would need the digital menu board software. At NoviSign, our pricing is $20 a month per screen, plus we offer special discounts when you need more than 3 screens.
What type of support is included?
Unlike other software companies, NoviSign answers the phone and calls the customer back. It's weird to read that, but we have heard from many customers that NoviSign is the first and only digital signage company that returns calls.
Aside from that, NoviSign offers complete initial training, online videos and user manual documentation.
Related Articles: