AOpen – the hardware manufacturer (iDisplay tablets, etc.) has recently launched their version for the Chromebox (together, now joining HP, Acer, Asus and Dell) in collaboration with Google.
This one is called "commercial grade". I do not know why, but it has 2 antennas (no other Chromebox ever had an antenna). It has some kind of built-in hardware encryption for those who need extra security. More than that, it has auto power and auto recovery (I do not recall any auto power feature for any other Chromebox). It has something which they call "commercial port" in the front of the box (looks very similar to Ethernet port). Last, they also mentioned it has a dual screen support. Nice.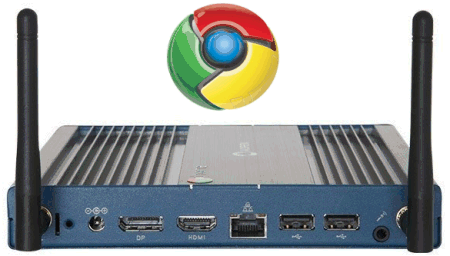 Like other Chromeboxes, it comes with 4GB RAM. Probably, the storage will be 16GB like every other Chromebox. This unit has an Intel Quad Core N2930 processor, WiFi (2.4 and 5 Ghz), Bluetooth 4.0, RJ45, 4 x USB, micro SD card slot, HDMI, DisplayPort, security lock slot, headphone jack, on/off button and power supply. Like the others, the price starts from 150 USD.
If you like to watch unboxing AOpen Chromebox, click here.
Sounds nice. The digital signage people would love to embrace the new thing as new team player for the Chromebox digital signage. You can start pre-order if you're fond of the Google Chromebox.
Who is going to be next? I bet it will be Toshiba…
Avi.