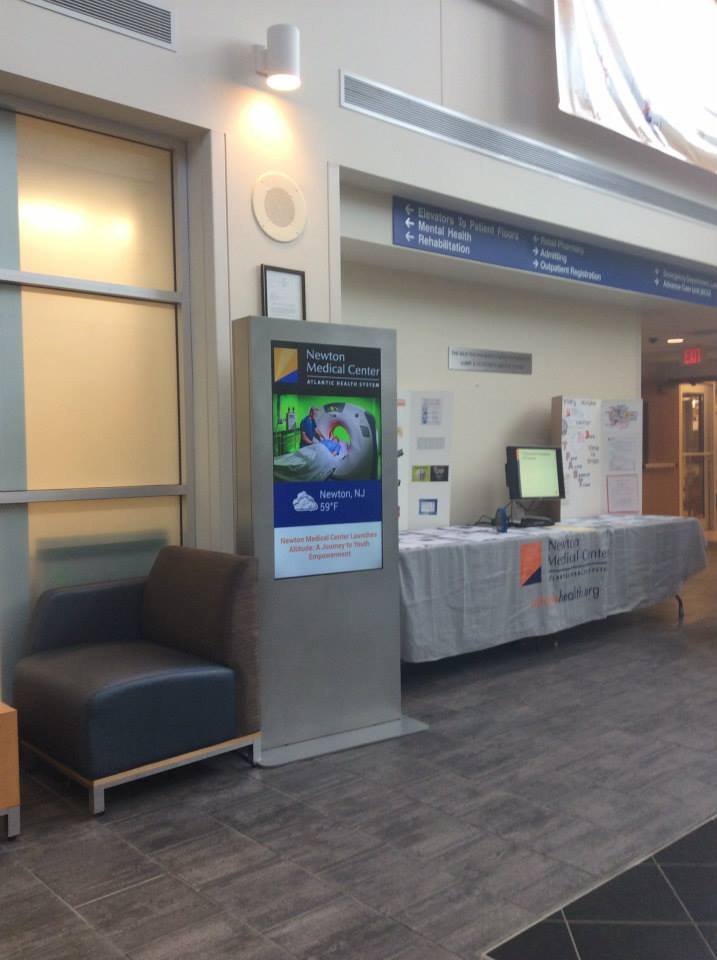 Atlantic Health System (AHS), a network of hospitals located in New York and New Jersey, is a leading network of medical centers in North America.
AHS selected NoviSign for their hospital digital signage due to the software ease, simple yet powerful scheduling module and dynamic reports and monitoring dashboard. They deployed a series of kiosks that were strategically located in high traffic lobbies and entrance points. The hospital digital signage kiosks were installed to help improve patient experiences.
Using NoviSign's digital signage software they created an informative interface of hospital digital signage content with a principal emphasis on providing on-demand notifications, promotions, and education.
Educational
By utilizing NoviSign's SlideShow widget, they created a zone of rotating images and videos that grabbed attention while driving important health-related tips and news. AHS was able to set the play duration of each media piece.
Wayfinding
By adding either a scrolling text widget or label, you can easily and quickly make a directory that lists office names and numbers. Using the shape widget, you can then add directional arrows to help guide your patients.
Promotions
In conjunction with information, you can use hospital digital signage to better advertise new services, procedures, and other relevant ads. These promotions can be pre-scheduled to play on specific dates and time automatically.
About NoviSign Digital Signage
NoviSign is known for RELIABILITY & EASE OF USE! Includes over 20 drag and drop widgets; HD videos, dynamic slideshows, weather, Facebook, Twitter, Instagram, RSS, virtual queue, website integration, interactive polls and more. NoviSign also includes a complete real-time monitoring dashboard for easy tracking of screens/media players. Proof play reports, live online connectivity, and more.
Price starts at on $20/month and includes full support and training
Runs on Chrome OS, Android, & Windows!
Related Links: