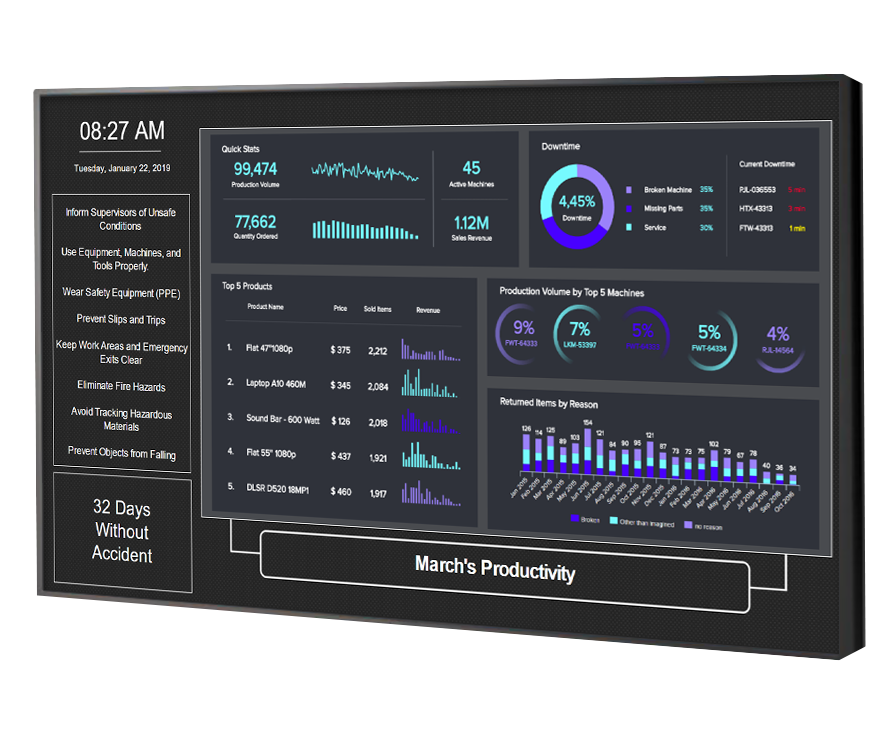 Digital signage for factories is one of today's best and most efficient ways to easily and quickly share your daily manufacturing communications and KPI's. From factory floor digital signage displays spread across work areas to employee break rooms, you can use digital signage for factories to effectively reach your employees at a moments notice while driving engagement.
Use factory digital signage to:
Distribute important production notifications, bulletins and internal communications
Share shift schedules, metrics and production line numbers
Emphasis important new quality control processes
Spotlight day's without accidents and critical new safety procedures
Production line daily tasks and the overall status of production lines
Preschedule daily notifications in advance so they automatically update
Unify Company Communications
By connecting your sales, warehouse and manufacturing communications, you are improving collaboration. Using digital signage for factories, you will be able to broadcast your organization's most important updates while still being able to share area specific notifications that are relevant to a certain department. With digital signage for manufacturing you can display any combination of zones:
Engaging media slideshows that contain PowerPoint slides, videos, image and PDFs
Incorporate scrolling RSS news, company social media feeds and weather forecasts
Daily shift metrics and data-centric charts that drive awareness
Feature new product videos and specification sheets
Company event and meeting schedules
Quarterly messages for the President and CEO
New employment opportunities
Improve Employee Morale
Over the years people have been trained to looks at screens. By strategically installing digital signage for factories in high traffic work areas you will be able to reach your employees with on-demand information easily.
Digital signage for factories can serve as an extension of your HR and general management. By getting your messages in front of your employees using digital signage for factories, you will be able to keep employee better informed while improving morale. Popular ways digital signage for factories can be used for cultivating a better working environment includes:
Spotlight the employee of the month
Highlight birthdays and work anniversaries
Recognize top performing production lines
Display HR notifications such as new insurance and benefits programs
Display and Track Goals
Use factory digital signage to outline daily, weekly and monthly goals clearly. By displaying goals that can be visibly seen and tracked you will help drive and motivate employees. Use digital signage for factories to display:
Real-time KPI dashboards such as Microsoft PowerBi
Track inventory levels, inbound and outbound shipments
Add spreadsheets, charts and custom scrolling text tickers
Incorporate PowerPoint slides that emphasis set goals
A Comprehensive Communications Plan
The beauty with digital signage for factories is that is can be used in virtually setting. From adding a screen to your lobby to welcome new customers to installing screens outside of your factories conference room displaying corporate communications you can use factory digital signage to streamline the way your company broadcasts information.
All that you need to get started are TVs, a media player and cloud-based digital signage software.
About NoviSign Digital Signage
NoviSign offers a straight-forward, digital signage software that is web-based and easy-to-use. From any computer, at any time you can create, edit and manage your factories digital signage.
Designed for the novice user, NoviSign's digital signage for factories comes with over 20+ drag-and-drop widgets that make it easy to create your content quickly. Simply create your content from scratch or customize one of the templates.
Slideshows, RSS feeds, videos
Custom scrolling tickers and weather
Facebook, Twitter, YouTube and Instagram feeds
Incorporate Google Slides, spreadsheets and website
Advanced playlist scheduling and remote monitoring
Runs on any digital signage player device
Cloud-based, no servers to maintain, and no setup fees
Pricing starts at only $20 per month per screen
For more information or to schedule a demo, please email info@novisign.com