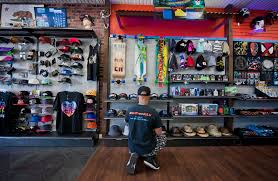 Nowadays, digital technology is becoming more affordable and easy-to-use. We do not just see digital signage at big-box retailers like Target, Walmart, and Walgreens. Small business owners already recognize the benefits that retail digital signage brings to their bottom-line.
Digital signage for retail provides dynamic and flexible solutions for mom-and-pop, small regional based retailers and medium-size stores.  Retail digital signage is a cutting-edge yet affordable solution that helps saving time and money versus traditional signage printing.
1. An Unlimited Variety of Possibilities
Retail digital signage can be customized to your audience. Content and eye-catching media can easily drive engagement and increase new impulse purchases. Retail digital signage can serve a variety of functions in accomplishing your business goals.
From instore wayfinding, advertising, promotions, employee training, brand strengthening, entertaining customers and enhance customer service experience. No matter what the size and type of business you have, retail digital signage can be customized to fit your budget while making sure that it drives both return on objective and return on investment.
2. Generate Better Shopping Experiences
You can turn your TV into an engaging communications tool using NoviSign cloud-based retail digital signage software. Use it to create a truly unique shopping experience; welcoming shoppers into your store, advertise your new specials and promote upcoming sales.
Another viral way to use digital signage is by integrating social media feeds into the content. Encourages customers to take photos in your store and share them on their social media sites with your hashtag. These social posts will enhance your online presence. Every hashtag with your company that is uploaded online will instantly go-live on the display
3. Over 18 Benefits of Digital Signage for Retail Stores
Showcase product reviews
Lead customers to specific areas of the store to drive sales
Inform customers about specific products, brands and information
Display new product offers, special promotions and discounts
Advertise specific products or upsell services and add-ons
Enhance marketing message and current advertising campaigns
Lessen waiting times for customers standing in line
Entertain shoppers with news, music and videos
Personalize content based on in-store needs and customer demographics
4. Cloud-Based Digital Signage for Retail
NoviSign's digital signage software is web-based retail digital signage software that is easy-to-use and can be managed anywhere. You can display messages on one screen or on several screens for all your store branches.  This new technology enables you to easily broadcast, all of your store's offerings, promotions and messages.
This dramatically improves customer experience and store profitability. You can also use the retail digital signage to facilitate and improve employee meetings, training and hiring process.
With NoviSign, you do not even need to hire a graphic designer to handle your retail digital signage campaigns. You can create content using PowerPoint or Google Presentation slides. Since NoviSign includes professionally designed retail digital signage templates, you can just drag and drop the content into the platform, schedule your playtimes, then send it to the sign!
Try it out today. With NoviSign you can sign-up for a free 30-day trial of their digital signage software. No credit card required, no commitments.
Related links: