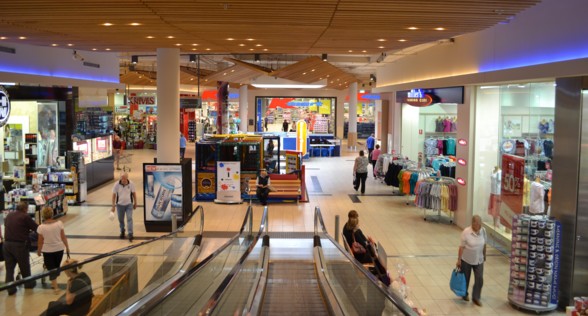 Shopping centers today have transformed from being just a hallway of retail tenants and a food court to full-blast entertainment complexes that feature large cinema theaters, amusement parks and indoor athletic facilities. To attract and maintain new visitors, shopping centers are placing principal emphasis on creating new and fun shopping experiences that are being powered by digital signage for malls.
This where and why digital signage for malls come in. Management companies are using digital signage in malls to increase value for their tenants while leveraging the technology to improve the way they reach shoppers. From entrances to the food court, malls are placing digital signage in strategic high traffic locations to create new marketing and promotion opportunities.
Additional revenue stream. Mall merchants who want to feature their products on the digital screen will bring additional profit
Fully-customizable. With digital signage for malls have total control of the content based on the screen location, time of day, season, etc.
Reporting functionality. Digital signage provides a detailed report to measure the impact of content, which can be shared with merchants
Use case examples
It is vital that your digital signage shows meaningful, informative and engaging content to boost its functionality.
Social media feeds
Social media is a great avenue for driving customer engagement, promotions and sharing news. Use it to increase your following and create more engagement with your audience.
Your social media feeds such as Facebook, Twitter and Instagram can also be shared on the digital screen. This increases your online footprint and improves your presence. This also establishes trust and reminds people to follow you on social media, too.
Setting up social media feeds with NoviSign is quick and easy. Using the drag-and-drop social widgets, you can define your hashtag and within seconds begin streaming your content!
Your website
In one section of the screen share your website or any other URL. You can show your website, blog pages, or any other attention-grabbing site. This is valuable, especially if you have an impressive landing page, an ongoing online campaign, or a new product that you are about to launch.
Using NoviSign's webpage widget, you merely add the website URL and share the content with mall shoppers.
HD image galleries
Since today's shoppers are busy, you need to capture their attention by showcasing exciting images on your digital screen. Photos are visually engaging and are one of the fastest ways to communicate with modern consumers. It grabs more attention instantly than pure text alone. You can share your images, those from your advertisers and sponsors and even images shared by your customers.
NoviSign's all-in-one digital signage software for malls supports various image formats such as JPEG, GIF and PNG formats. Simply upload your images and arrange the playlist. You can also pre-schedule specific images or advertisement to play or update on specific days and times automatically.
Essential notices
Use digital signage for malls, to also share crucial on-demand information with mall shoppers. You can use the digital signage to announce the opening of a new store, parking hours and mall events. You can also post-shopping guides, weather updates, health and safety information, to keep shoppers updated on what's happening around.
Mall digital directories
Welcome your shoppers with digital signage! Create a dynamic and highly visible digital mall directory. You can place a series of either free-standing or wall mounted digital directories at your mall's entrance and other high traffic locations.
By using a digital directory, you will be able to provide the shopper with vital information about the shopping malls stores, HD wayfinding maps, spotlight current sales and list valuable customer service driven announcements and notifications.
A digital mall directory is a great way also to generate new revenue. You can sell advertising spots on the sign to your tenants. A digital directory for your mall is fun and innovate way towards improving the shopping experience!
Try it out today. With NoviSign you can sign-up for a free 30-day trial of our digital signage software. No credit card required, no commitments.
Related links: