Clubhouse is the new kid on the block – and it is a fast growing, super interesting kid. This new social network is gaining great momentum and pride among the users.
I think the refreshing thing about this social network is the super intelligent content. It is not for sharing the new apple pie recipe, but it is an extension of the podcast world which became very popular and now clubhouse is taking it to a totally new level.
Clubhouse is a unique audio based app that connects participants on demand at a specific time, creates scenery and interaction and fades away. The content is never kept anywhere, it is not recorded and it practically dies with the vent, leaving only the impression and the experience. You snooze – you lose!
So what can be the contribution of digital signage to clubhouse? Until recently, when you referred to digital signage in a club house you referred to digital signage in Sports clubs or a music club. These days we see how this important word – clubhouse – diverts into totally new meaning.
Digital Signage as it is located in a crowded venue, by nature can be the bridge between the physical presence and the clubhouse activities. The recommendations for relevant clubhouse events can be easily presented on the Digital Boards, avoiding the need for the endless alerts on your mobile device. For Digital signage implementation in Organizations for internal communications, use the clubhouse relevant events can be even broadcasted live and connect the employees of the organization to the clubhouse relevant events.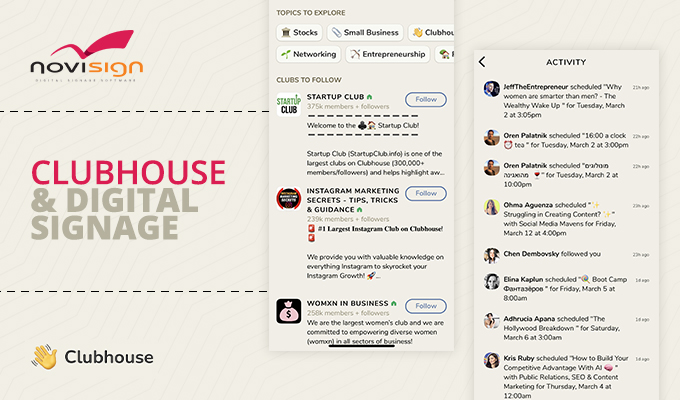 As some of the clubhouse events are creating mini-scandals with regards to the hot items of that day/week, it is very effective to present some of the clubhouse items straight up on the wall, using the Digital Signage as mediator, for example some of the ideas that came up after the counter attack of gamers on the 'short sell recommendation' on GameStop using Robin Hood – this can be presented in relevant venues for gamers, connecting the clubhouse scene with the relevant business.
In other words – what happens in the clubhouse – should NOT stay only in the clubhouse. Use Digital Signage to echo it!
And do not forget to join live discussions on ClubHouse on digital signage. Early 2020, the NoviSign team members have also joined the clubhouse and the digital signage club there hosting rooms to discuss digital signage related issues, so you are welcome to join the discussions room on signage.
Avi.