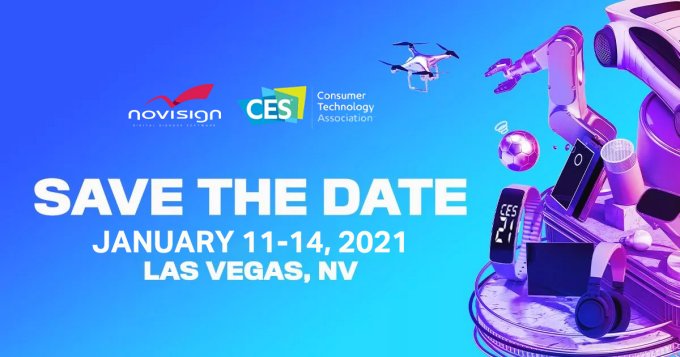 January 11th – 14th, NoviSign Digital Signage will be digitally attending the Consumer Electronic Show (CES®). Known as the world's most prominent tech event globally, CES® is the proving ground for breakthrough technologies and global innovators.
The Consumer Technology Association (CTA)
Hosted by the Consumer Technology Association, CES® 2021 Trade Show digitally connects businesses with thought leaders, vendors and tech manufacturers to introduce products, grow brands, and form partnerships. Hear from technology innovators, see the latest product launches, and engage with global brands and startups from around the world.
About NoviSign Digital Signage
NoviSign's comprehensive web-based digital signage software online Studio, you can create beautiful digital signage. With over 25+ drag-and-drop widgets to choose from, you can quickly design and manage engaging content.
Include live social media streams and media-rich zones that feature videos, RSS feeds, HD images, scrolling text, weather and more!
Cloud-Based Digital Signage Software
The design online Studio is easy-to-use and designed for the novice user! NoviSign's digital signage software is designed in 'layers' from a necessary image/video campaign, up to multi mixtures of images, videos, scrolling static text, slideshows, news tickers, weather, clock, RSS feeds and more.
Also included are cutting-edge digital signage widgets such as Instagram, YouTube, Ustream, touchscreen, virtual queue and website integrations for creating a rich environment of live and engaging content.
Features
Best variety of drag-and-drop widgets
Customizable template library
Instagram and Twitter Integrations
YouTube and Ustream live videos
Create and manage new playlists
Advanced scheduling capabilities
Manage a single display or hundreds
Admin controls with multi-user control
Cloud media library for storing your media
Real-time content updates
Monitoring and reports dashboard
RFID and Barcode Integrations
Facial detection digital signage
Content creation services
Retail Digital Signage
Increase sales while enhancing the way you communicate using digital signage for retail stores. Add sleek retail shelf edge screens on your endcaps for front and center product promotions to add that extra final punch of in-store advertising. Remotely create and manage your content from a corporate location or make on-the-fly updates from your laptop.
Digital Signage Solutions for Education
Use NoviSign's digital signage software for education to create media-rich content that features school announcements, media slideshows, HD videos, campus notifications and more. Create a template from scratch or customize a professionally designed template.
Real-time school news and updates
Upcoming school events listings
Athletic news, scores and highlight videos
Campus maps and professor digital directory listings
Course information and class listings
Alumni and donor recognition
Digital Menu Boards
Using NoviSign's software for digital menu boards, restaurants can easily and quickly create beautiful digital menu boards, edit prices, add images, item descriptions, scrolling text, slideshows and videos. All changes wirelessly update the menu within minutes.
Sell More Food: Cross-sell and upsell new add-on side items and desserts
Improve Efficiency: Remotely manage all of your menu pricing and items
Better Advertise: Spotlight new products, promote specials and sales
Corporate Communications
With NoviSign's Digital Signage for Corporate Communications, you can make rich content that contains company messages, media slideshows, HD videos, internal communications and more. Create a template from scratch that features multiple media zones and messages or customizes a corporate communications digital signage template.
30-Day Free Trial
Test NoviSign out yourself and see why NoviSign is the fastest-growing, top-rated digital signage software globally. With over 50,000 screens deployed across 68 countries, sign-up to discover why NoviSign is the go-to choice for reliable digital signage software.