Have you ever walked hungry into a restaurant, diner or even fast food place and imagined how the dish will look like when it is served to your table in just few minutes? I believe we all experienced this. In most fast food courts, you can see pictures, In some of the big chains you can see Digital Menu Boards, presenting the dishes, the prices, the nutrition facts and so on. Researches show that live images increase the sales, especially in fast food where the customer expects the 'what you see is what you get' service. Moving Images and videos are even more effective.
The digital signage industry entered this business long ago. McDonald's and other 'Super Chains' have Digital Menu broads for more than a decade. So what is new? The 'message' is for smaller chains – what used to be unavoidable for smaller chains that could not afford digital signage implementation to serve as Digital Menu Boards, is now affordable to restaurants of any size. NoviSign took advantage of the rising popularity of Android Mini PC and harnessed it to become a powerful, yet Simple Digital Board solution. Using NoviSign's Android based signage software, cloud based CMS, simplicity and rich content, a business of any size will find the cost of implementation of menu boards decreased to a level that traditional printing cost is actually higher than implementing a digital solution.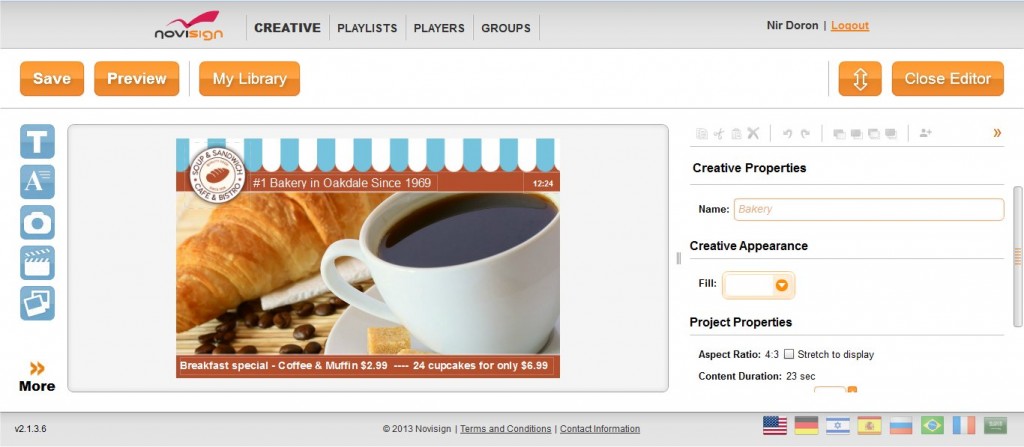 And it is not only the rich content and the fact it simply looks better than a simple image – it is the efficiency of the dynamic nature of digital signage – one can change the price in the menu board in one click across all the branches in the chain (instead of putting an ugly sticker to overwrite the old price); the cost of adding a new offering, promotion, sale or any other dynamic message is close to zero, while in the traditional signage the chain management would think twice if the cost is worthy.
Chains of any size – when you think of menus – think of NoviSign Digital Menu Boards!
Just a taste: http://app.novisign.com/Player/NPlayer.html?screenkey=af77f867-cd6a-4e6e-88ef-a3efdefa2ac8
Nir