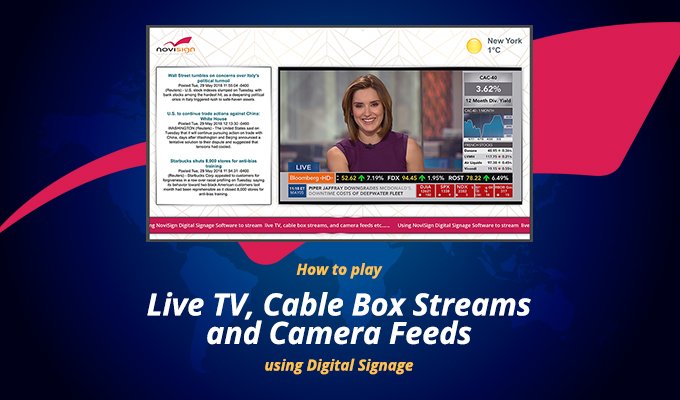 Are you looking to stream live TV with digital signage? Or maybe connect your cable box to display live breaking news, sports games or other cable channels? Do you need to connect your camera feeds with digital signage?
Well, now with NoviSign and HDMI-IN Android media player, you can now stream anything that can be connected to an HDMI-IN port. The live media can play in conjunction with announcements, slideshows, scrolling tickers, advertisements and other media.
Benefits of Live TV Digital Signage
By incorporating live streams, you drive attention to your digital signs, while being able to provide appealing media that entertains. Because you will have attention on the screen, you can add additional zones of information that would be playing around the live stream.
Using NoviSign's cloud-based digital signage software and the drag-and-drop widgets, you can setup zones of content that feature corporate communications, retail sales, information, weather, RSS feeds and other promotional content.
Additional Advantages
Supports live TV, cable box and camera feeds via HDMI-IN
Display protected HDCP content
Set the zone size of your capture feed
Add other widgets and apps to play around the live feed
Rotate from full-screen TV feeds to multi-zone layouts
Preschedule content to play on specific dates and times
Remotely make edits and updates to the screen content
Monitor all of the screens status and connectivity
Run proof-of-play and media statistic reports
What do I need to make this happen?
Gone are the days of having to pay for overpricing "enterprise-grade digital signage players" or having to connect multiple pieces of external hardware such as capture cards. All that you need is NoviSign and an Android HDMI-IN Digital Signage player.
By connecting HDMI video feed to the HDMI-IN port, you can begin streaming live TV inside of your digital signage!
What kind of HDMI-IN Android Digital Signage Players can I use?
Here is a breakdown of the top three players that we've tested and approved for streaming live TV with digital signage:
Qbic BXP-301
The Qbic BXP-301 is one of the most rugged and tech spec rich HDMI-IN digital signage media players available in the market today for streaming live TV digital signage. It supports 4K resolutions, comes with a ARM Quad-core 1.8GHz CPU, Mali-T764 GPU, 2GB DDR3 Memory, 32GB eMMC Storage and RS232. Overall this device is high powered and reliable. Price: $459.00.
IAdea XMP-6400
For over 10 years now, IAdea has been manufacturing 24/7 rated Android Digital Signage players. The IAdea XMP-6400 is a commercial grade device, feature both HDMI-IN and RS232, comes with a ruggedized chassis, supports dual output, is shock resistant, is 1080p Full HD and comes with 8GB Storage. Price: $469.00.
Conclusion
Mixing live TV with digital signage is one of the industries most popular applications. Up until now, the ways to do this have been clunky and hardware heavy. Now with NoviSign, the process of getting your live video source onto the digital sign is easy and straightforward.
From a pricing standpoint, we don't charge extra setup fees for the capability. For a flat rate of $20 per month, you will get all the tools you need to create, edit and manage "enterprise grade digital signage".
In addition, with 20 screens or more, we offer a complete management console that gets you admin-level control over users, permissions, licenses, assigning storage and more!
Do you have questions?
Contact us today for more information or to schedule a web demo to see our capabilities!
For those of you who are already familiar with our software, here is the technical article explaining of how to use the PIP (Picture in Picture) feature.
Chad.