Boost Employee Engagement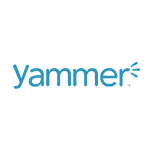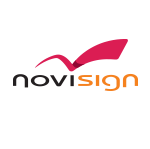 What Does NoviSign Do?
Digital Signage is an easy way for employees to quickly catch news, events and data throughout the day. With NoviSign digital signage software, you can set a live Yammer stream on every company screen for all employees to view, enhancing internal communication.
How Does it Work?
Create a Yammer user, e.g. signage@mycompany.com, add it to relevant groups whose feeds you would like to follow on screen.
Signup online to novisign.com. Load your media and build your playlist.
Add the Yammer component to the playlist, attached to your new Yammer user.
Mount a screen on the wall and connect it to the mini-pc, running the NoviSign player software.
Now, enjoy the live Yammer feed on your screen!
Here is a how-to tech post for the Yammer.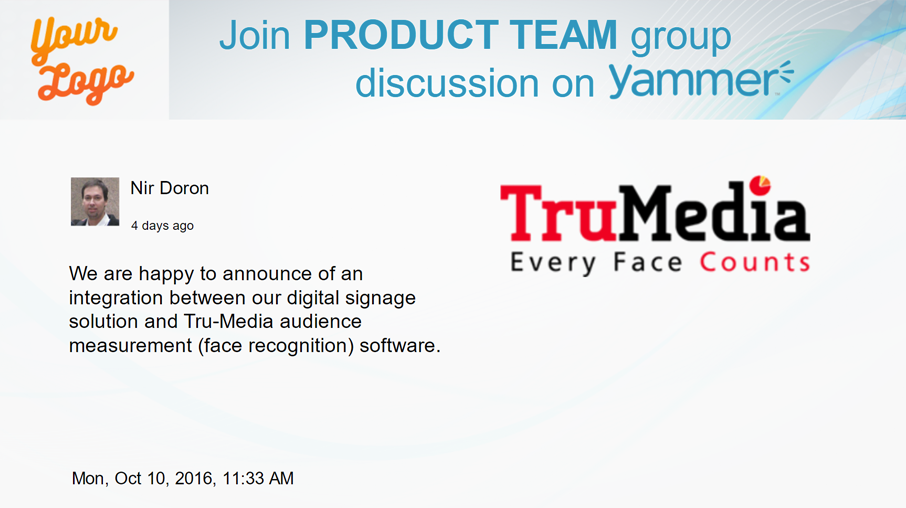 Where Should the Screens Go?
Showcase your live Yammer feed in corporate break rooms, cafeterias, hallways, entrances, staff rooms, reception areas and meeting rooms.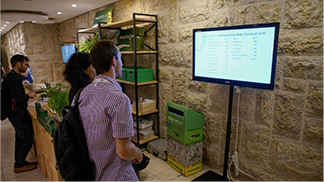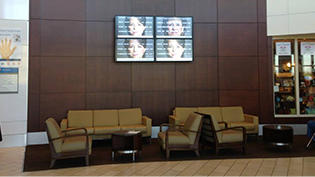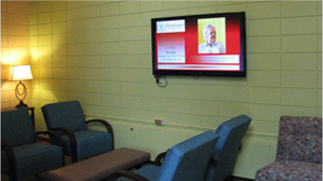 What Are the Results?
Getting Yammer on corporate e-boards and digital displays is great for showing the latest Yammer conversations as well as connecting with offline employees and inactive users.
With NoviSign, you can synchronize screens with Yammer in a customizable way to display up-to-date and relevant content for employees. This will promote Yammer usage by employees creating internal communication.
What Makes NoviSign Stand Out?
– NoviSign's easy drag-and-drop system means there is no need for complicated integration.
– NoviSign's intelligent Content Management System enables you to add useful widgets to your digital displays, e.g. image, text, video, RSS, weather and more.
Check it Out Here
Low Prices
Only $20 per screen per month.

About Yammer
Yammer is the enterprise social network that helps you and your team collaborate openly and stay on top of it all. With Yammer, you can connect to the right people in your organization, share and search for information across teams and organize around projects and ideas so you do more.

About NoviSign
NoviSign is a cloud based digital signage software platform that enables users to create, manage and broadcast engaging digital content, using an easy drag-and-drop system, at affordable prices.
Get Started with a Free Trial Straight Away!
Contact NoviSign with any question you have on
using our digital signage software
info@novisign.com
Global: +972-9-794-7643
U.S.A.: (646) 893-7770