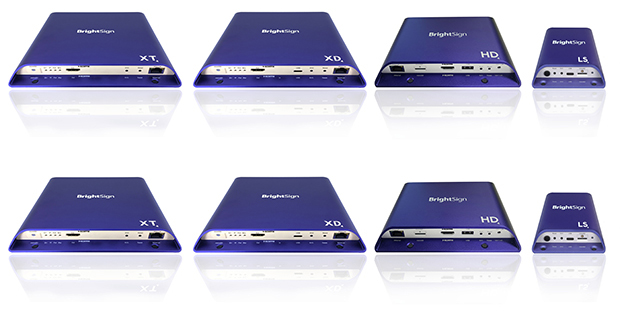 BrightSign is a well-known name for digital signage media players in the digital signage industry. With a reputation for reliability and long life, BrightSign is known as an industry leader for affordable media players. Now with all of that being said what makes BrightSign a go-to vendor for media players?
Hardware
Because BrightSign is a hardware manufacturer they place a major emphasis on driving digital signage content through the use hardware. This focus is hardware heavy. It requires customers to have an in-depth understanding and background of audio and video technologies. Now let's be honest, does the average customer have this background? No, it can be confusing.
Aside from hardware, your digital signage content is only as good as the design and digital signage software used to create the content. The hardware only receives and plays back the content that you design. So always remember, it is key to utilize a cloud-based digital signage software that is robust enough to easily create media-centric digital signage.
Variety
Brightsign offers 5 series of media players that add up to a total of 8 models. The series are positioned in the good, better, best format.
BrightSign LS – $250.00
The LS is BrightSigns basic digital signage player. It is a commercial grade player that supports HD 1080P video and supports external microSD card. To connect to WiFi an external module must be purchased.
BrightSign OPS – $400.00
This line-up is a digital signage media player that is compatible with OPS displays. It comes with a JAE TX25 connector plug that can be used for connecting to the internal components of displays.
BrightSign HD – Starts at $350.00
The BrightSign HD series has 2 models that both support 4Kp60. The models offer HTML5 play, H.265 decoding, and support local, streaming and networked playback of media.
BrightSign XD – Starts at $350
The BrightSign XD series has 2 models available that support both H.265/H.264 encoded 4K content at 60fps, Dolby Vision, HDR10, and HDMI 2.0. External Wi-FI module is available but must be purchased.
BrightSign XT – Starting at $550.00
The BrightSign XT line up is an "enterprise-grade" series of digital signage players.  This series also supports 4K, accelerate HTML5 rendering, Mosiac mode, Gigabit Ethernet, dual 4K video decoding, and PoE.
Conclusion
BrightSign media players are known for dependability and smooth media playback. From a software standpoint BrightSign offers an entry level solution that allows for the basic creation and management of content. Using the BrightSign Network  (now called BrightSign BSN.Cloud) users can remotely manage content via a subscription fee. Because content is king, make sure you fully test the digital signage software that is being used to update and manage the digital signs content.