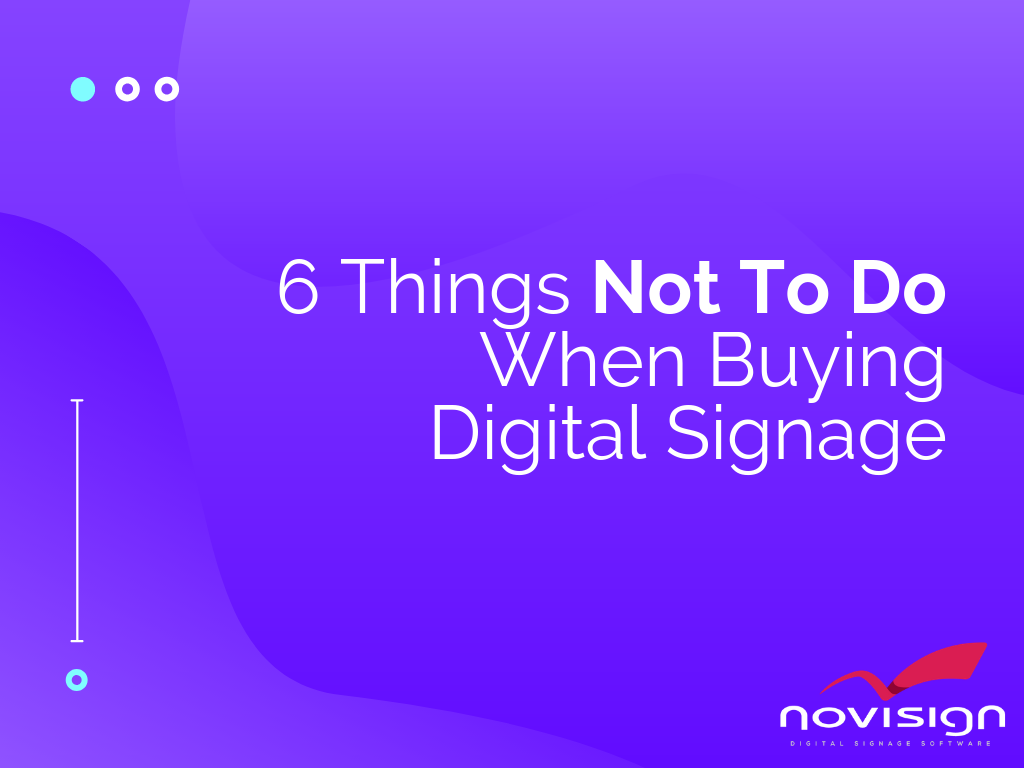 When searching for and purchasing a digital signage solution, many times, organizations overlook critical points that cost them both financially and effectiveness. Hardware, digital software and content management can quickly become mismanaged and overcomplicated.
To avoid mishaps, we've outlined the top 6 things not to do when purchasing digital signage.
1. Over focusing on hardware
Many times, companies, especially IT & AV departments, will place a heavy focus on digital signage players and screens without knowing what digital signage software will be used. Without knowing what software you will use, you won't know the required operating specs of the player and will waste time looking at digital signage players. 
Remember your media player is only as good as the digital signage software. If you have a hard to use the software, the content will not look good, no one will update the information and the digital signage system won't be used. Tech spec rich media players and commercial grade digital signs won't make the content look good; the software will.
2. Limited in functionality and customization
All too often, digital signage software companies will dazzle you with claims of 80+ apps with lots of features, but how easy it for you to use or other individuals in your organization? Look past the glitz and glamour and make sure you do your proper testing. 
Another thing to look for is customization and templates. You can have all the fancy apps in the world, but if the digital signage software doesn't allow for you to customize the look-and-feel of the app or template to match your brand's requirements, then it's pointless. Make sure the digital signage software is flexible and easy-to-customize. 
3. Complicated daily management
If your digital signage content isn't updated on a routine basis, people stop looking at it and it becomes pointless. When setting up your content, make sure you have a plan! 
Breakdown the different items being displayed on the screen so different departments or individuals will be responsible for updating. This delegates content management (in other word sub-users).
Another thing to help keep your content fresh would be to sync up with live widgets like local news tickers, company social media streams, Google slides, YouTube, Ustream, Yammer feeds and webpages.
4. Not doing a site survey
The last thing you want to do is purchase a bunch of screens and don't have the proper wall space to mount them. When it comes to displays, make sure you accurately measure out the spacing you have. 
For digital signage players, you will need internet connectivity. Yes, the majority of players can be connected to WiFi but to ensure the best connection hardwiring the digital signage players is recommended. Make sure you have a hardwire line is available. If not get the wire run to the location(s).
5. Not scalable
The point may come in which you may want to add additional screens to other departments or buildings. Make sure to look into expansion costs and how easy it would be to add-on.
6. Not involving daily users
Many times the heads of departments like IT and Marketing do the digital signage evaluations. The problem with this is, will they be the actual users of the system daily? 
Probably not. Make sure you get the individual involved in looking at the options and have them test out the digital signage software themselves. By making sure they can use the software, you will help improve your odds that the system will be used and updated routinely.
Conclusion
A successful digital signage system comes down to good content that stays fresh and reliability. Make sure to test each digital signage software out while viewing the playback dependability if the system supports your visual communication needs and steadily plays on the digital signage player your looking at a good option.
From a pricing standpoint, many digital signage software companies will look to lock you into contracts and may even require annual support costs. Look for companies that offer monthly pricing options with no additional fees.
About NoviSign
NoviSign is a cloud-based digital signage software provider. The software can be accessed from any computer, at any time. 
Using the customizable templates, users of any background can easily design and create stunning digital signage that is engaging and effective.
Pricing is only $20 per month per screen, and a free 30-day trial is available!