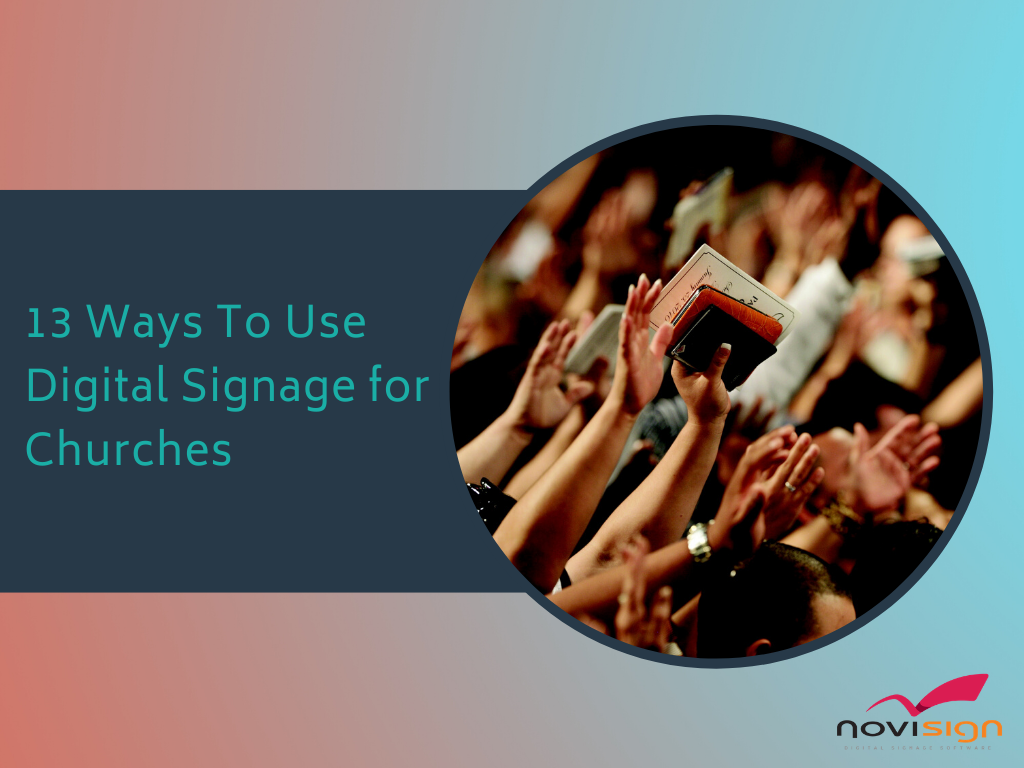 Digital signage for churches is one of the best and most effective ways to communicate with your congregation. From creating engaging community information boards to incorporating live social media streams, you can use digital signage for churches as your gateways to improving the way you reach your congregation with on-demand and relevant information. 
Use digital signage for churches to display:
Share upcoming and daily service and event times

Welcome your congregation with custom messages

Display hymns, prayers and scriptures

Spotlight new members, birthdays and anniversaries

Promote new fundraisers and volunteer opportunities

Incorporate your Facebook, Twitter and Instagram feeds

Youth camp dates and activity sessions
Flexible and Dynamic
Because digital signage for churches is non-obtrusive yet attention-grabbing, it can be used to improve engagement rates. The lobby, foyer, corridors, outside of teaching rooms and entrance areas are all examples of where you can use church digital signage. 
You can use digital signage for churches to:
Share church facility maps and directories

Display emergency warnings such as weather alerts

Incorporate pastor biographies with images and text

Add videos of past and current services

List scrolling text tickers of church news

Recognize donors and contributions
Upgrade Your Churches Appeal
Digital signage for churches is a visually appealing way to reach and better connect with members. Because you can display and always update the content being posted of the churches' digital signage, you can stay on top of communications using any combination of videos, images, slideshows, weather feeds, RSS news and more! 
In addition, digital signage for churches can be used to reach the younger crowd. Because the youth is in-tune with technology, their willingness to look at and engage with screens is much higher. 
What do I need for church digital signage?
All that you need is a TV, digital signage software and a media player.  
A media player is a small device that connects to any TV via HDMI. Every minute it will check for new content updates and play them on the screen.
To get your information to the screen, you will use digital signage software. Using your computer and NoviSign's cloud-based digital signage software, you can create your church digital signage content and remotely update the content of the screens.  
With NoviSign, you can also create playlists that feature specific messages, announcements and other media to play on specific times and dates. This flexibility allows for total control of what you're displaying on the digital signage screens.
You can try NoviSign out today free for 30-days!

Pricing is only $20 per month, and we offer non-profit discounts

Contact us today for more information