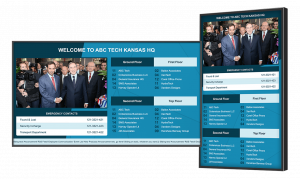 Are you looking to learn more about digital directories? Today we will go over the top reasons why you need to go with a digital directory system instead of the old school strip directories. There are four key reasons why digital directories are superior.
1. Simple to use and implement
When a new tenant moves in or a tenant is moving out, it literally takes seconds to update your digital directory. This helps you save time and increase your efficiency for your building and your employees. Simply open up your digital directory template, delete the old tenant, and add the new. Within seconds of making your change, the digital directory will wirelessly update!
2. Real estate is everything
Same thing with digital directories. You can use any TV and virtually display any combination of information on the digital directory. This gives you maximum control over the screens real estate and what exactly is being displayed.
Aside from a digital directory, you can also display custom scrolling text, welcome messages, weather forecasts, area traffic reports, slide shows, live TV, videos, property management information and upcoming leases.
3. Improve your building's atmosphere and your brand
Create a positive and welcoming vibe in your building using a digital directory. By adding value-added content to the digital directory you will add to and improve the overall visiting experience of your building. This builds value in your building while being able to better appeal to new potential tenants.
 you will improve the experiences of both tenants and building visitors. By adding a digital directory to the lobby you can create a modern appeal that allows you to better reach and welcome. 
4. Easily adaptable
The demands of your tenants and building visitors are always changing. With digital directories, it's really easy to adjust the messages and notifications being displayed on the digital directories. From sharing a new building update to listing scheduled maintenance times you can quickly and easily update your content from any computer at any time.
About NoviSign
NoviSign offers solutions to make your facilities more efficient for employees and visitors. Solutions like digital directories and event schedule displays help everyone be in the right place at the right time. 
Complement your decor and help visitors quickly find their destination. Use digital directories, room signs, multi-unit wall displays. meeting room displays and digital kiosks in waiting areas and lobbies, to update information across your digital directories. 
Using NoviSign full library of digital directory templates, you can quickly customize your directory, insert images, RSS feeds, videos and more. Pricing starts at only $20 a month per digital directory. Contact us today for more information.