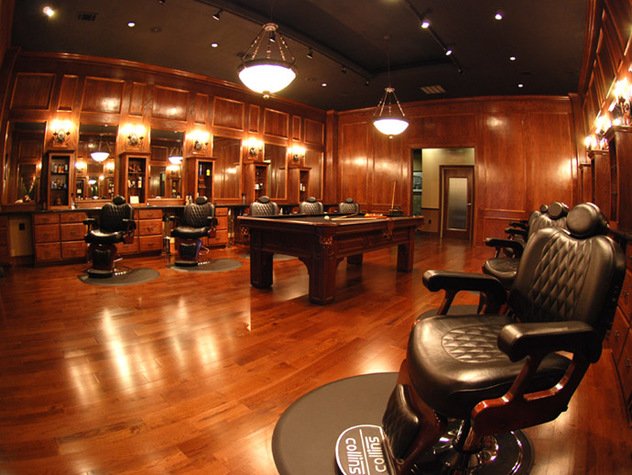 Digital signage for barbershops is a visual communications tool that can be used to not only improve customer experiences but sell more services! Because barber shops have a captive waiting audience you can use digital signage for barbershops to reduce perceived wait times while spotlighting services and infotainment style content. Barbershop digital signage can be used to:
List prices, cuts, shaves and other services
Advertise monthly sales and specials
Upsell VIP services and packages
Promote customer loyalty programs
Featured new products
How to Improve Customer Experiences Using Barber Shop Digital Signage
You can use digital signage for barbershops to enhance the perceived value of every customers visit. By creating a unique experience your customers will keep coming back and refer friends and family. From telling the story of your barbershop to displaying entertaining content you can use barbershop digital signage to stand out of from your competitors. Example of items that you can display include:
Stream YouTube playlists and videos
Add Twitter, Facebook and Instagram feeds
Before and after images
Customer testimonials
Easy-to-Use Digital Signage for Barbershops
All it takes is a TV, a media player and the digital signage software. You would simply connect the media player to your TV and download the NoviSign Digital Signage app on to the media player. From your computer you will be able to create your content using NoviSign.
Using the drag-and-drop widgets you can add:
Slideshows
Scrolling news feeds
Images
Videos
Custom text tickers
Weather
Websites
Social media streams
and more
In addition to creating your content you can pre-schedule specific advertisements, price changes and other information to automatically play on certain days and time, set recurring schedule and more.
All of the changes that you make on your computer will remotely update on your barber shops digital sign within 2 minutes!
If you have multiple barbershops you can manage all of your barbershops digital signage from a single account. You can update all of the signs at once or you can send different content to each sign.
NoviSign's pricing is $20 per month / screen. No Contract and No Setup Fees. We also do offer special pricing on 5 screens or more.
If you need help with content design and setup we do provide professional customer design services that are affordable and turnkey.
We provide full training, have online videos, online FAQ center, phone support 8AM – 5PM, plus 24/7 email help desk.