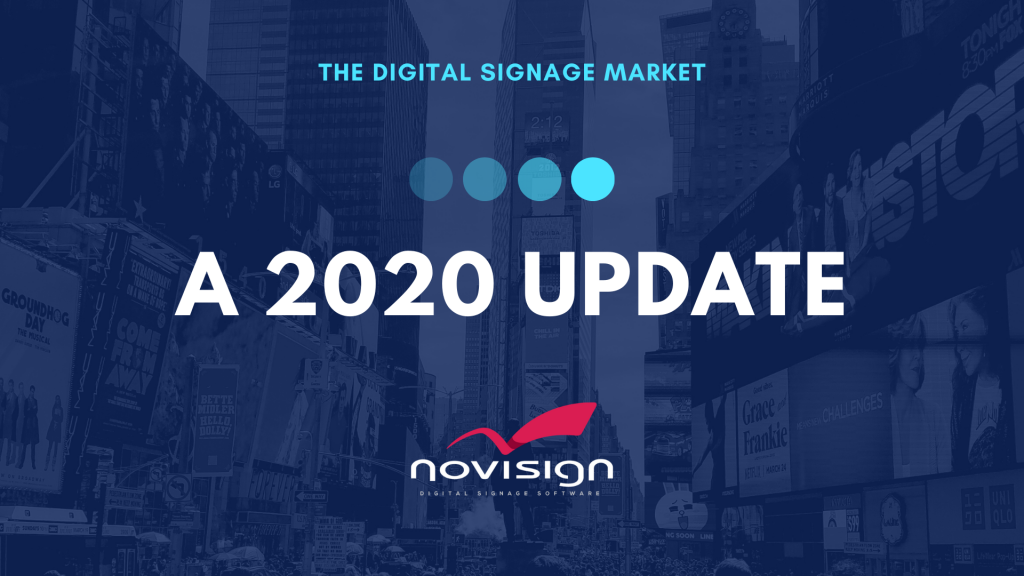 In 2012, the digital signage industry raked in an estimated 13.2 billion dollars. That figure is expected to jump to over 20 billion by 2020. Digital signage has been shown to increase an average purchase amount by 29.5% and increase overall sales by 31.8%. And what about customer retention? Digital signage generates 32.8% growth in repeat buyers.
The industry is growing and it's growing fast. The right digital signage solution can offer your business a way to capitalize on this exciting emerging market. Today's consumers and employees are connected and informed. They demand instant gratification and most of all, useful information. With that being said, digital signage is your gateway to streamlining the way you reach and communicate with. It is a platform that can be used to unify communications while improving the way your brand and organization is perceived.
Let's now look at several key application examples that digital signage can be used in.
When it comes to sharing company notifications and important internal updates there is nothing better than digital signage. From screens in lobbies to screens in breakrooms, you can use digital signage to strategically send targeted updates to your employees with. Company news, training materials, company metrics and meeting times are all examples of notifications that you can display on the screen.
Another great way to use digital signage are waiting rooms. Why? Well, for starters you have a captive audience that is just sitting there waiting to be called. Secondly, you can deliver information that can improve experiences while being able to spotlight your new services, check-in procedures and other relevant notifications about your clinic or organizations. Live TV, scrolling news feeds, doctor biographies and slide shows are all examples of items that you can add to the content of the digital sign.
Also, known as digital bulletin boards, information boards are one of the most popular ways digital signs are being used. They can be installed across high traffic vocal points throughout your building. By identifying your objectives and goals, you can then create the perfect content strategy for displaying the perfect combination of notifications, updates and information on the screen. 
How to get started?
Your solution should be simple, intuitive, accessible and dynamic. It should be available anywhere, anytime. That's where NoviSign comes in. NoviSign is a cloud-based digital signage software platform that is used to create and manage the content being displayed on your screens. It's simple to learn and even easier to use within minutes of logging into our cloud digital signage software you'll be creating rich content. NoviSign is packed with great features.
Our drag-and-drop widgets let you seamlessly insert the right information into your content. Traffic maps, streaming videos, slideshows, Twitter and RSS feeds are just a few of our widgets that allow you to customize your content exactly the way that you want. Or stick with our beautifully designed industry-specific customizable digital signage templates. With only a few clicks, you'll be able to go live with a fully functional digital signage. It couldn't be simpler.
Pricing is only $20 per month, and all that you need to get started is a computer.
You can try out free for 30-days! Sign up here