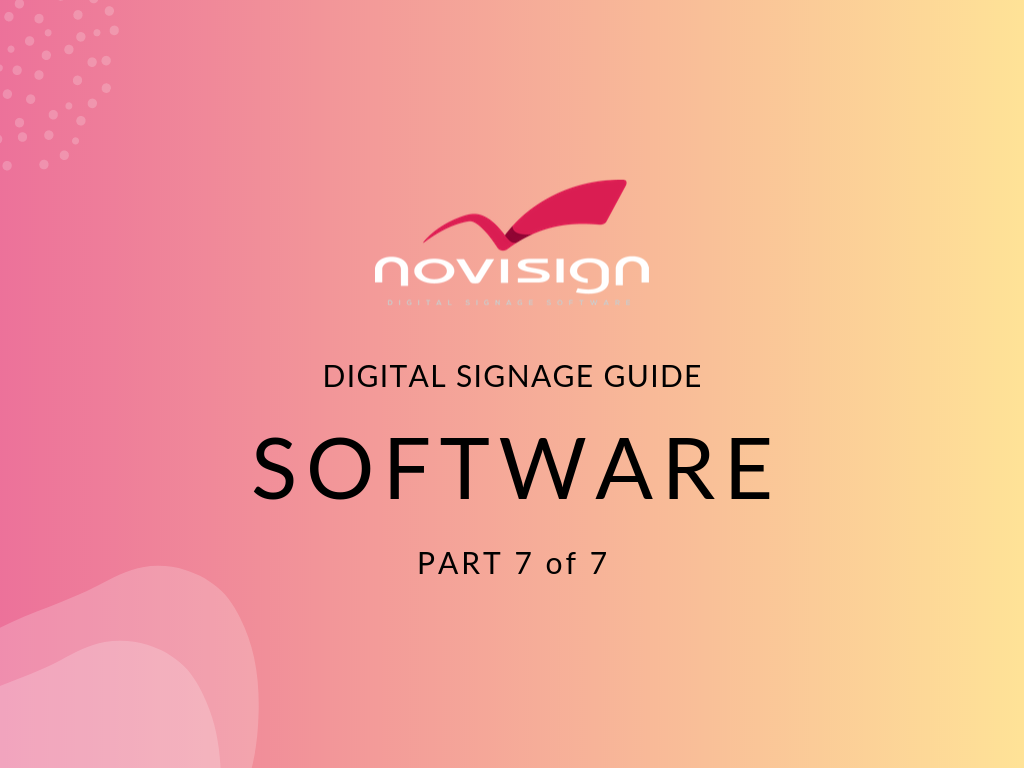 Digital signage software is the heart of digital signage. It is what you use to create, edit and manage the digital signage content with. The most common and popular form of digital signage software is 'cloud-based'.
What is cloud-based digital signage software?
The term cloud-based is referring to the internet. So with digital signage software, it is cloud-based. This means you can access an online portal to design, update and send content to the digital signage screens.
The basics
When shopping for a digital signage software, the top two items to look for is ease-of-use and capabilities. Because there are so many options available, we recommend that you first see a demo of the system then try it out yourself.
When seeing a demo of the software look for:
How easy is it to use?

Does it support the functions you need?

What kind of templates are included?

What type of support and training is included?
What can digital signage software do?
In it's purest form good digital signage should allow for you to upload images, videos and text. Aside from these essential functions, the ability to customize the layout of the media and text is important. If you can upload images without being able to adjust the size or layout, then you might as well just use a USB thumb drive of rotating images.
A powerful digital signage software needs to be fully customizable and support the ability to add a wide variety of widgets and apps to the content of the screen. Popular examples include:
Twitter, Instagram, Facebook, YouTube

HD videos and Ustream

Website Integrations

Metrics dashboards

Scrolling news feeds

Multi-component slideshows

Custom text tickers

Live weather and world clock

Interactive polls and virtual queue

Google Slides, Google Sheets

Touchscreen
Scheduling Playlists and Schedules
Aside from being able to create your digital signage content, the second most important thing to look for is scheduling. In the digital signage space many companies call this "Playlists".
A digital signage playlist is a play sequence of templates and or media. A basic digital signage playlist will allow you to adjust the play order and time of play. With more advanced digital signage playlists, you can schedule specific templates to play on particular times and dates, set recurring schedules and expiration times.
Remote Monitoring and Reports
Another crucial component of digital signage software is the ability to see the status of your digital signage. By monitoring your digital signage, you will know if the screens are up and running, what playlists are playing and if the digital signage players are connected to the internet to receive updates. This information helps you watch over your network while streamlining the way you trouble potential issues.
Conclusion
Make sure you do your research when it comes down to selecting the right digital signage software company for you. Test out the platform for your self for ease-of-use and stability. 
Check our other sections in our 7-part series "A Total Breakdown of Digital Signage":